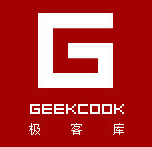 My friend David Zhang (@digitalboy I've known a few years in China, going back to a punch party events we both spoke at punch party event in 2009, he is a very bold and charismatic Chinese businessman, influential in social media, and uses community building to build his business….selling his own brand of "geek products" in the Chinese market, using the name "geekcook". His business has been growing quite well during the past couple years since he has opened, and even though his website is only in Chinese, he gets english inquiries.
While he does speak and type English pretty well, he wants me to be his agent for overseas sales. I am quite honored, and again like my huawei chinese brand phone and I have been saying for years, especially in Xiamen SEO event in April 2010 Chinese manufacturers must build their own brand to survive as the manufacturing base leaves China to South East Asia.
But back to my buddy Digitalboy. We are building an english website, en.geekcook.net and also promoting on facebook and other social media outlets in English.
We're making a survey to find the top products in his product line that will sell best in the Western world. We are going to send a select set of inventory to Los Angeles, USA warehouse for sample shipments to potential distributors as well as sell on some B2C channels.
In addition, as my idea to expand New York Bar Store to be more than "just bar products" I will add his product line here as well.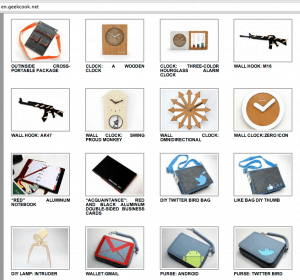 Some of his products include:
OUT INSIDE CROSS-PORTABLE PACKAGE
CLOCK: A WOODEN CLOCK
CLOCK: THREE-COLOR HOURGLASS ALARM CLOCK
WALL HOOK: M16
WALL HOOK: AK47
WALL CLOCK: SWING PROUD MONKEY
WALL CLOCK: OMNIDIRECTIONAL
WALL CLOCK:ZERO ICON
"RED" ALUMINUM NOTEBOOK
"ACQUAINTANCE": RED AND BLACK ALUMINUM DOUBLE-SIDED BUSINESS CARDS
DIY TWITTER BIRD BAG
LIKE BAG DIY THUMB
DIY LAMP: INTRUDER
WALLET:GMAIL
PURSE: ANDROID
PURSE: TWITTER BIRD
BAMBOO'S TALK:IPAD2
BUSINESS WEEK MAGAZINE COVER PHOTO FRAME
PLAYBOY MAGAZINE COVER PHOTO FRAME
ELLE MAGAZINE COVER PHOTO FRAME
"AN MENG" COUPLES EDITION MOBILE PHONE ORNAMENTS READER
BAMBOO'S TALK:IPHONE4
DIY ANDROID BAG
DIY E-MAIL BAG
WIRED MAGAZINE COVER PHOTO
TIME MAGAZINE COVER PHOTO
NATIONAL GEOGRAPHIC MAGAZINE COVER PHOTO FRAME
8BIT PIXEL FRAME
8BIT PIXEL WALL CLOCK
BUBBLE WALL CLOCK
LUCKY CAT LAMP / PIGGY BANK
BOMB LAMP
DOUBLE-SIDED STORAGE BOX KID LAMP
FOOTPRINT WALL CLOCK TIME / FRAME (SQUARE)
FOOTPRINT WALL CLOCK TIME / FRAME (ROUND)
RESIDENT EVIL RIMLESS LUMINOUS BALL FACING THE WALL CLOCK / CLOCK
NUCLEAR LUMINOUS BALL FACING THE WALL CLOCK FRAME / CLOCK
MIRROR WALL CLOCK / CLOCK
24 HOURS A DAY WOOD WALL CLOCK / CLOCK
THE NUMBER OF GRACEFUL WOODEN WALL CLOCK / CLOCK
TURN BACK THE CLOCK WALL CLOCK / CLOCK
CANON DIY SLEEVE
GOLDEN LOTUS DIY SHUTTLE SLEEVE
MICROELECTRONICS LUMINOUS WALL CLOCK / CLOCK
LINGUISTIC INTERPRETATION
FRESHWATER CRAB WALL CLOCK / CLOCK
MYTUBE TV PHOTO FRAME
BLACKBERRY PHOTO FRAME
IPAD PHOTO FRAME
DIY SMALL DOG LAMP / STORAGE BOX
DIY FELT SHOULDER BAG
DIY WOODEN CLASSIC TABLE LAMP
DIY TO CABLE BOXES / STORAGE BOX / CARD CASE
DIY ROBOT TISSUE BOX 2.0
DIY MOBILE SHELVES
The hardest part I think for the Chinese manufacturer to know how to do is…which products do foreigners like, what price is a good RETAIL price (as Chinese are notorious for driving prices down too low to destroy the market), and how to reach potential USA customers.
So we'll add geekcook to the USA B2C market, put it in english, get a product survey made to get feedback and ideas from Americans and my friends, and hopefully build a successful case to show other Chinese factories to build up their own brands for export.
The future is coming so quickly….and its exciting.