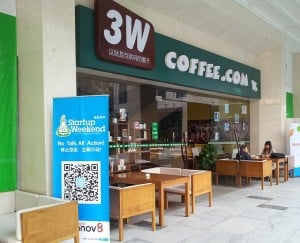 Couple days have passed since this past weekend's Shenzhen startup weekend, our 4th official in this city. Over 110 participants, amazing energy and passion, and keeping up with the mission of the Startup weekend NGO – inspiring entrepreneurship.
We had mentors from Hong Kong, Guangzhou, and Shenzhen – with experiences in tech + business, marketing, sales, and business model generation. Countries represented – China, Hong Kong, Mexico, USA, Holland, Germany, Malaysia. We had sponsors, volunteers, and participants coming from Beijing + Shanghai.
Those curious on the winners, here is a google translate from our official Weixin update:
Fourth the Shenzhen Venture project team composed of 13 successful ideas from 43 over the weekend:

Happy Bus,
Film and assessment network,
gun-shaped multi-function controller,
part-time people,
the influx of Pre letter +,
Mappiness,
Scan In,
App refuelingstation,
CDBC platform,
USN.HK
Gift UI,

accompanied by ceremony of one kilometer. After 54 hours of each team effort, the Fourth Shenzhen Venture third weekend: letter +, second place: Hong Kong University Students' Network, the first place: Mappinness, lots of prizes, will not elaborate here, the most important is to recognize the a bunch of like-minded Chinese and foreign friends! The next entrepreneur weekend held information, please pay attention to the the official weibo and micro letter of, expect affinity goodbye!
What I am personally most excited about is our organizational TEAM and team work. Having now organized 4 official in Shenzhen [our most recent was in Nov 2011 in Shenzhen] (1 un-official) and 1 in Guangzhou, participating in Hong Kong (Feb 2011), facilitator in Seattle, I have learned its about a team!
And that has been the biggest result from all these startup weekends, for me at least personally. To see the team develop and learn how to operate on its own. Its also further developed my own management style, especially in China – where I have to rely on others to basically operate.
We plan to hold another Startup weekend Shenzhen in May (most likely May 10-12)
Here is a video from this Startup Weekend #4 in Shenzhen, China (via Chinese youtube, youku)!