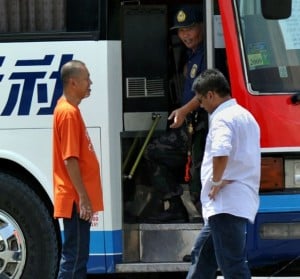 Started getting twitter and SMS messages about 10 hours ago about a hostage situation in the city of Manila in Philippines, involving about 15 Hong Kong people…..so obviously I'm smack in the middle of the political ramifications of this….so I looked deeper.
I'm seeing tons of news coverage of it, but this article shows the potential political issues between Philippines and China
Philippine police on Monday stormed a bus full of Hong Kong tourists seized by a disgruntled ex-policeman armed with an assault rifle who has threatened to kill his hostages.

The gunman, who took control of the bus in the centre of Manila almost 10 hours ago, said he had shot two of his captives and would kill the others if police did not meet his demands.

"I shot two Chinese. I will finish them all if they do not stop," former senior police inspector Rolando Mendoza told the Radio Mindanao Network before police moved in on the vehicle and smashed its windows.
Crazy, reading this article, its all about a FILIPINO KILLING CHINESE people:
Sacked policeman kills 8 Chinese in Philippines coach hijacking

A former police inspector hijacked a coach filled with Chinese tourists in Manila today in a 12-hour seige that left at least eight dead.
I'm already reading my friends on facebook, and the tweets across twitter about the Hong Kong people blaming the Filipino government and police force……I mean, I guess we all expected blame and hate to come from this horrible tragedy….Chinese here in Shenzhen keep mentioning to me how dangerous it is in the Philippines, and now I'm going to hear it even more.
I AM GOING THERE NEXT WEEK, sept 1 to sept 13…I'm not afraid. But then I'm told, well I'm white, Filipinos only hate Chinese people. uggggghhhhhhhhh….
hate…..ignorance…….manipulation……
Well, I'm just going to keep living my life, going about my business…but another sad day of ignorance, hate, and crime.
To those who think it only happens to Chinese, here is last month's paragraphs brought up in these articles:
Last month, an American, a South African, a Briton and their Filipina partners were killed in spate of murder-robberies in Angeles City north of Manila. The alleged killer was arrested.
Sure, I guess Philippines isn't the safest place in the world….but man, the media loves to "blow things up" and make it sound worse then it is……
Lets please stop the finger pointing, the hatred, the "this people vs that people"……
….As Rodney King said "can't we all just get along".