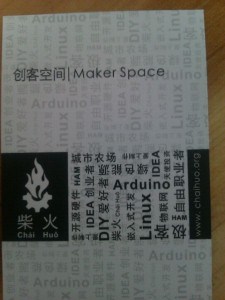 I first heard about a Shenzhen hackerspace from my buddy Jon at boot hk hong kong coworking, but it was too early a few months ago, as I called and they said it wasn't yet ready. It has just opened last month!!!
I already got some people on twitter and foursquare confusing hackerspace with computer hackers!
So what is a hackerspace?
Although many times its confused to be a "bad" thing like a computer hacker breaking into a private database of credit cards….hackerspace is a word to represent people who want to MAKE STUFF…..break apart products, electronics, toys, etc and build something. Tink with them, build them, hack them together.
So where is this Shenzhen Hackerspace?
The name of the hacker space is Chai Huo, 柴火 A DIY Lab For People Who Like To Make Stuff In Shenzhen China, and its located right behind the Holiday Inn (across from the Nanshan book store and Hai Ya department store) at:
地址:深圳市南山区南海大道东华园5栋7楼0728
邮编:518054
电话:15019292312(Tully), 15820425706(Mikehou侯庆福)
ChaiHuo
Address: Room 0728 Bld 5 Dong Hua Yuan, NanHai Ave. NanShan. Dist. Shenzhen 518054 China

Phone: +86 150 19292312

Nanguang Lu interecting with Bin Hai Dadao
7th floor
Nanshan, Guangdong
+85 755- 2640 7752
The people I have met organizing it are Tully, and american electrical engineer who just came to setup this new DIY hackerspace, Eric who started seeedstudio, which is actually a private business selling the components for making and building your own electronics (I guess best compared to a modern radio shack), and Jack keeping the day to day going on.
Just more and more amazed….I'm so glad I've learned to operate in such a fragmented way. Its allowed me to travel more, and more importantly, network with suppliers, customers, and new business opportunities.
beer kegerator – making their own beer on site! AWESOME
Its all about DIY.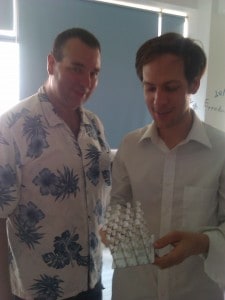 this saturday was another meet up, started at 2pm (for some reason I thought it was at 3pm!) and it was about programming your own PCB circuit board. Tully was the lead speaker, showing the software on the
Had Ricky visiting from a hackerspace in Shanghai, xinchejian– there have been many visitors from Shanghai to see the new hackerspace and coworking spaces. Also in Hong Kong. Building up an awesome "fragmented" network of freelancers, creative minds, and enthusiasts.
Met Dave P who is also working closely with the hackerspace, an American here in Shenzhen who sources, assembles, installs, and services computers. He was showing me how some LED switches are controlled by various bursts of electricity controlled by the circuit board, not the LED.
I am also hoping I can find some guys at this hackerspace to help me with the electrapour LED pour spout….enhancing it, and building new products off of it. Just like I saw today from Dave, we can now make a multi LED color version…after years of my own research and talking to the fragmented world of CAD designers, hand made sample makers, and product designers…just one quick afternoon visit to a bunch of "hackers" making stuff in Shenzhen, China.
Open networking community building is a powerful thing…and its spreading all over China and the world now. Its the future, no more of that full time office, full time staff….that is too old school!
I plan to work closely with Shenzhen coworking, SZteam and this new Chai Huo hackerspace…as coworking and hackerspaces are like brother sisters helping each other.
Took tons of pictures the last few days I've been visiting, sharing below: