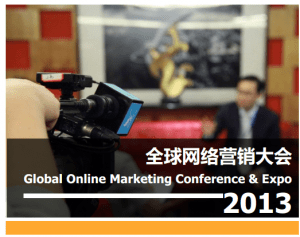 Its that time of year again! Conferences in the spring pop up like crazy in China – and for the past 5 years I have been going to a Xiamen based event groups – TimeV – which has been the largest Chinese internet event each year. This year, they will move the location to Wuxi city, about 1 hour train ride from Shanghai, and it will be in the end of May. I always attend and support this group and below share the information. Hope that more western businesses can attend to learn how to do online business in China.
GOMX GLOBAL ONLINE MARKETING CONFERENCE & EXPO: May 29-30, 2013 Wuxi, China

2 day event: May 29th to 30th

May 29th , 8:30 am to 12pm , Opening ceremony

Overseas marketing forums' time:

May 29th : 13:30 pm to 17:00pm (for foreign companies which want to enter the Chinese market)

May 30th: 8:30am to 12:00pm (for Chinese companies which want to enter the foreign market)

Location : from 2nd to 4th floors, Wuxi Jun Lai Intercontinental Hotel 无锡市永和路6号 Road. 6 Yonghe , Wuxi
Below is the full detailed plan:
Attracting nearly 3,000 attendees, over 150 online marketing experts, around 300 agencies. Global Online Marketing Conference & Expo (GOMX) is the largest professionals-only online
marketing industry event held annually in China.
There're plenty of choices when it comes to online marketing conference, but GOMX is unique for it is the only place where you can meet up most of China's primary online marketing service providers and agents, marketers and advertisers at one event. Besides, GOMX's Overseas Session is specially tailored for those who plan to enter China's market using innovative and localized online marketing strategies.
A collection of insights and best practices from over 150 corporate speakers, giving a step-by-step guide for how to start a business in China and to proceed online marketing strategy.
The best networking opportunity to fill your contact book and discuss practical e-marketing issues with large groups of your peers.
The most comprehensive, targeted and relevant agenda for you to learn useful strategies and best practice for the desired market.
Get your company's questions answered by experienced experts – Robust debate and problem solving delivered in an engaging format with active sessions, practical case studies, keynotes, panel debates, Q&A, networking receptions and much more.
Over 150 leading experts will Share strategies on how to promote online marketing!
GOMX features over 80 hours of speeches, tutorial, case studies, marketing diagnosis and panels on a comprehensive selection of online marketing topics taught by leading industry experts.
Chinese Marketing Strategy for Western Businesses
 
This is my favorite one – its a full afternoon from industry experts about how Western businesses can leverage Chinese internet for their businesses. Topics include:
B2B digital marketing in the Chinese context
The difficulties and opportunities on the way into Chinese markets
Localization in a global world: developing a cross-border social media strategy
Optimizing humans: the art of data-driven social marketing
Choosing a brand in the China market – should you get the .cn of your USA company, or get a new .com brand?
Breaking down the borders: international & multilingual SEO
GOMX Overseas Session is the best chance to get your company's questions answered by experienced experts at one time!
Expo of Chinese E-commerce Service Providers
  In recent years, services tailored for e-commerce companies have become more detailed and dedicated. Emerging professional providers offer services include SEO, web designing, photography. GOMX 2013 will exhibit over 100 e-commerce service providers, giving you a complete sketch of the e-commerce service chain in China. logistics model
Expo of New-generation Chinese Online Marketing Products
Online Marketing is one of the industries that develop most rapidly. New and outstanding products aim to assistant and intelligentize our work, including client software for EDM, SEO and
PPC management, SNS marketing, or video and mobile marketing. The 'Expo of New-generation Online Marketing Products' at GOMX 2013 will make it possible for you to review most of the market product at one time! GOMX 2013 features a series of social activities, including reception dinner, welcome banquet, and the "V5" VIP party, etc.
Chinese Business Tour & Sightseeing
After the conference agenda, the organizer arranges 1-day sight-seeing trip in Wuxi and 2-day business tour Shanghai. This tour is designed for those who wish to know more about China's internet and e-commerce world. Companies listed in the tour include:
Dianping.com is one of the most popular online urban city guides in China. It provides targeted online marketing solutions including e-coupons, sponsored listing, group buying, membership card service, and LBS such as check-in services. In short, Dianping.com is the Yelp + Groupon + Foursquare of China.
AdSame Networks Technology is a pioneer of china's intelligent digital marketing. AdSame owns a database of 600 million cookies which covers 95% Chinese internet users. Its clients include Samsung, Dior, Nokia, Pepsi, HP, IBM, and Colgate, etc.
Ctrip.com is a leading travel service provider that offers hotel reservations, airline tickets and packaged tours to business and leisure travelers in China. With its 16 branch offices in Beijing, Guangzhou, Shenzhen and other major cities throughout China, the company currently employs more than 12,000 people. Ctrip was listed on NASDAQ on December 9, 2003.
Frequently Asked Questions
1) In the past it was SMX brand, why no longer?
The organizer of GOMX, TimeV.com introduced SMX into China and co-hosted the event in
2006 and 2007, including agenda design and guest invitation, etc. Now TimeV is using its own
brand and the new event is focused on not only SEO and SEM, but the whole online marketing
chain, as well as E-business. And of course, the event is more focused on Chinese marketing.
2) Will the Chinese events have live translation?
Yes! SI (simultaneous interpretation) is provided for the Opening, the Overseas Session on 29th,
and one of the sessions on 30th. For the rest sessions, since there will be 6 sub-venues opening at
the same time, accompany interpretation will be arranged for foreigners. That means the
attendees can choose the sessions they are most interested in.
3) Where and what kind of companies are arranged for the after-event business tour?
Normal "Trip Package" include one-day trip in Wuxi, a beautiful city for sight-seeing. At the
same time, Wuxi is one of the cities where most Chinese SEM companies are located.
The "Advanced Trip Package" includes another two-day business tour in Shanghai. Companies
to be visited would be pioneer E-commerce or internet companies in China. Percipients are
welcome to make requests.
4) How do I register and deal the payment?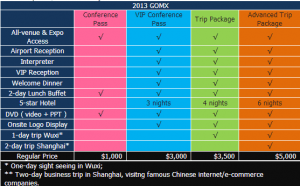 Please download and fill up your information form here: GOMX 2013 Registration Form.
Let me know if you'd like to go – contact me and I'll do my best to connect you in the Chinese internet – still such a long way to go!