Thats a tongue twister! Startup Tuesday on how to start a startup. Say that 5 times over. I am a bit confused if I should post these on both my personal blog here as well as szteam.com, and now we are developing startupscn.com – but hey…the more people who see this the better….and I know some people don't see / read / are aware of the other sites…so here is the post I just wrote up.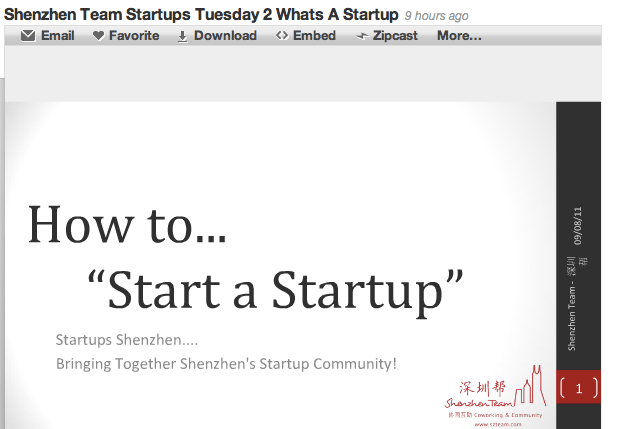 Our 2nd "startup tuesday" here in Shenzhen was based on the "basics" (from the prior week's audience feedback and level) as we felt people needed to start from ground level to make sure we don't leavev anyone behind. The slides are here
Basically, we went over "what is a startup", how to "form a startup" (explain a startup doesnt really need to be a formal company at the beginning, how to deal with partners, payment methods, project planning)
This time, people really wanted to remember who came! So as we went around the room, I typed this list. Sorry if i mis-typed people's names…this was a rush job and better then nothing (so tell me and I'll correct it, ok?!)
paul jones – American entrepreneur in Asia since 2001, doing affiliate marketing in Thailand, Philippines, Hong Kong, and now focusing 100% in Shenzhen this year.
his Chinese asst
federick – france, fast food, father biz
Javen – From Jianxi province, SOHO doing electronics to Europe. 08, 4 months,
Klas – netherlands, commerce. father invited him for 1 year.
bruce – looking to get into a startup
gina – chongching – biz english, just graduated in jan. started western business in shekou. ghost bar. came to learn more business.
Eric Chen – hunan – came last sept from beijing, ruby programmer, came to make more friends.
Jessie Cai – worked for 3 startups. p1.cn bindo.com , smart energy, ruby on rails programmer.
Vlad – 3 years in sz, GPS tracking solutions for fleet, medical. software sales. Also a startup like fiver but in the russian market. looking for new ideas. seed investor.
Renaud from france, came 5 years ago to hk, 4 years ago in sz, Quality control, web app for managing importers purchasing.
Johnson Lee- came last week. hometown is Xi An, working in outsourcing company. Came to learn how to startup own business, and share
Daniel – SZ 4 years working for German company doing after sales. maintaining, repairing, industrial controller.
Marie – sales manager for ecommerce company (shadstone, newyorkbarstore)
Ben – Taiwan company, quit to learn English did trading for Zhejiang for middle east customers. working for pakistan company, manages LED factory.
Tom Chang- hunan province. work to keep systems running, systems engineering, SEO.
Luigi from italy. in SZ 1.5 years. next month make online shop to italy, japan, china.
Rafael – from brazil, 2 years in china trading.
Rodrigo – independent sourcing to brazil
Rebecca – 2nd time here, like doing business. her father has his own business, wants to do it too. doing testing business.
Niki Tai – from hunan province, 2nd time here. working for small asia bank in shenzhen. come here twice
Oli – freelance, startup for social network in hotel industry.
Kai – shenzhen for COO engineering,
Sun Ninang – artist,
Rick – think race GPS tracking solution for USA company and thailand.
Franky – works for Rick, oversees market.
Donald – from NY, parents from Hainan. 20 years in high tech. staying here to do his own startup.
Katherine – supply chain management. interested in teamwork
Stella – spent 10 years in canada as teacher. program for kids to learn mathematics. vegetarian food startup. and community.
Dave ho – online marketing for expats in shenzhen.
Joe – 2nd time here, from beijing. in SZ more than 50 days, moved from HK, does private equity investments. VC.
A couple links I promised the attendees I would share:
findlaw for documents on incorporation, other legal templates.
ycombinator for all kinds of free information on startups.
Here is the basic outline….obviously not as good as being here in person…but my best shot. Also slides here
How to… " Start a Startup"
By: Startups Shenzhen, presented by Michael Michelini….
Bringing Together Shenzhen's Startup Community!
Today's Agenda
Round table
What is a startup?
Basic formations, where to incorporate
Funding – bootstrapping, angel, VC Partners –
Finding, and dealing business partners
Announcements (startup weekend, beach, directory, volunteers, coworking)
Open Networking
Whats a "startup"
Looking to Wikipedia – http://en.wikipedia.org/wiki/Startup_company
The phrase "startup company" is often associated with….
Often means – high growth, technology oriented companies.
High risk/reward profile and scalability.
Can potentially grow rapidly with limited investment of capital, labor or land.
Basic Formations
Don't rush into forming a company.
Make it work first!
Can be a simple contract to start.
Where are YOUR CUSTOMERS!!! setup where your customer is, not your supplier!
Bank account
Basically meant to protect your personal liability.
Funding Options
How much do you need?
For WHAT?
Bootstrapping
Angel
VC (Venture Capitalist)
Debt
Dealing with Business Partners
EQ (emotional intelligence) Common goals, vision Same "exit strategy"
Real World Examples?
Startups
Prototypes
Funding
Partners
Submit to Directory!
Email add @ startupscn.com
Send us your:
Logo
Quick "about us"
Website URL
1 st Startup BootUP
How about Fri Sept 2- to Sun 4?
Build a startup in a weekend!
Taking Applications
Come on a friday night
Make a team of 3-4 people
Work over the weekend.
Pitches Sunday night to a panel of judges
Beach Party, Startup Style
Nearby Shenzhen Beach –
Sat morning to Sunday afternoon, (Overnight Saturday) –
Invite friends from HK, Shanghai, Philippines, Indonesia, Thailand, etc –
Fun, Bonding, Networking
Volunteer Help!
Promoting events on various channels
Event organizing – pitch nights, startup weekend
Judges, mentors
Finding sponsors, speakers
Maintaining website, directory
Will have meeting for those who want to be involved
Szteam coworking progress
Thanks to SZteam for providing the space.
Can work in SZteam daytime before the meeting
Follow Us!
Currently szteam.com , soon separate domain on startupscn.com
Weibo – @shenzhenteam
Twitter @shenzhenteam