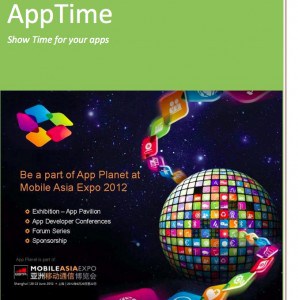 Shanghai trip is going to be JAM PACKED with events and meetings! Trying to make the most out of the trip. The rockstar organizer team from StartupWeekend in Shenzhen – Nik, Kawai, and myself, have been asked to host a 1 day hackathon for mobile apps inside the GSMA Shanghai, China's Mobile Asia Expo on Friday June 22nd! Seriously seems like I'm in an event every few days now, but trying to maximize the opportunities as they come.
Its a new concept, and we were asked to put this together while we met some awesome people in Guangzhou China's startup weekend, and we are working with what we've been provided to make an awesome event!
We are titling the 1 day mobile app hackathon "AppTime – and due to the request by the Mobile Asia Conference organizers to do it within only 1 day, we are more asking programmers and developer teams to come with a working app already good to show to judges for ranking – rather than build onsite.
Here is what Nik has helped us write up about this one day event – I've been chatting about it a bit on my weibo account, and getting more and more detailed questions.
Apptime Mobile App Hackathon

Whats Apptime?: AppTime is a day long event inside the App Planet Event. App Time is for Startup companies / Teams / Individuals to present their apps to a select audience of VCs , Investors, tech enthusiasts, and sponsors.
When: Friday, June 22nd 2012
What Time: 9am to 6pm.


Where: Shanghai, China, inside the Mobile Asia Expo, specifically inside the mobileasiaexpo .com/app-planet-overview App Planet sub-event (confusing I know….) so find us inside the App Planet.

Mobile Asia Expo Details:
Exhibition Venue: Shanghai New Int'l Expo Centre (SNIEC)
Conference Venue: The Kerry Hotel, Pudong
No.1388 Hua Mu Road, Pudong, Shanghai, 201204, China
Hotel phone: (86 21) 6169 8888

How Much?: AppTime is free, but you need to get into the AppPlanet venue, which is 450rmb. We have this coupon code for free entry:

> 点击
> 以下链接注册参加MAE的免费通行证: https://registration.itnintl.com/mae12/regonline/RegLogin.aspx)
> 选择"开始新申请登记"并创建帐号*
> 输入以下注册码并点击确认:EVPT2GTP
> 按流程指引完成注
>

Who Participates: Individuals / Teams /Companies who want to showcase their latest apps to prosumers

– Programmers working on apps and looking for partners.
– Teams working on an App and looking for partners
– Startup companies /Mid level companies looking for VC funding /partners/a platform for exposure.
– Individuals or Startups looking for face time with industry experts and funding partners.

What is the format?:
Teams present their Apps in any of the following categories. (Please note only selected apps will be allowed to present)

Gaming /Entertainment
Social Network
Productivity
Health and lifestyle
Finance
Shopping
Travel
And more….

Who Should attend:

Programmers
Startups
Companies who want to launch their latest apps .
Prosumers
Tech enthusiasts
VC / Angels and investment community looking for fresh ideas
Nik also designed a nice brochure design you can download to look deeper. We're only a week and a half away! Pushing hard for this, if you are interested in helping as a volunteer, sponsor, or participant, please contact me.
After the event
Instead of making a new blog post, I will use this blog entry to update the results from the Apptime Event: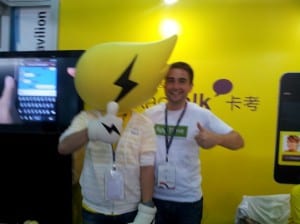 Writing this on the subway back to downtown Shanghai – its been an exhilarating 3 days at the first GSMA mobile asia expo.
Agenda for the full day of mobile app pitching and tech talk!
sponsor talk

kakao talk
21brains
german lady doing games
small game studio from hangzhou. . ninja must die
walk in

DIY phone cases
office for mobile phone
Total Immersion AI
Blackberry then took over, going through their new Blackberry 10 mobile platform, dissolving myths about developers fleeing their system and playbook sales. They had a quiz time and a very high percentage of audience got lucky and were able to take home a Blackberry playbook.