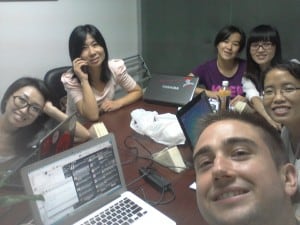 Pushing hard to get all the loose ends tied up in Shenzhen operations before flying to Shanghai tomorrow. When we all got together, I'm noticing that I work better with women! Maybe I'll get some sexist comments, or that I'm stereotyping. Maybe its also more in China than in the rest of the world, so take that into account when I go through the points.
Just gonna write from my gut – and be as "black and white" as possible about my experiences and what I've noticed almost 5 years now having staff in China (and a bit in Philippines)
Women are more Stable then Men
I think this is human nature actually. Women are more caring, and more concerned with a stable environment for their family and friends. This has backfired for me in the past, when I have transitioned company directions – some of the female workers cannot follow such an unstable work environment and moved on.
But when there is stability in a company, women seem more content and work towards maintaining this stability.
Stability…for the most part, is key in a business operation. And I see women as doing better to take care of details and ensure operations are under control.
Women are more Loyal then Men
Women I work with appreciate a work environment that takes care of them, makes payroll on time, is respectable. Comparing to men, they expect this, and are more concerned with making as much money as possible or building their own company (see below point).
Chinese Men are Pretty Agressive to Start their own Company
Maybe this is because the Chinese economy is booming – but again and again you will see a Chinese staff leaving a company and starting their own company – normally almost the same as the company they are leaving.
And I have heard this happen in USA and all over the world during my experience.
Whereas, women, as I outlined above, are less likely to take your customer database and aggressively sell their new company services to your customers.
Many times I have been thanked by my old staff, called "teacher" and helping inspire them to build their own e-commerce or internet marketing company or freelance career. This is why I have moved toward training, consulting, and Startup Weekend / entrepeneurship events. Why fight it, may as well support it.
Sure, it does happen, but I just believe women are more trustworthy.
Therefore I work in Partnership w/ men
I want to say, of course I work with men still! But because all men really push to do their own company, don't resist it. Work in alliance with them – in a B2B fashion. Or as a freelancer.
Men, are more technical, and (in China at least) its much harder to find women who are technical. Maybe if there were more technical women, I'd have them employed in the future. Thought to ponder.
I'm a bit nervous to hit publish on this blog post – but I know many other "bosses" who would agree with me. I wonder if this is specifically a trend in China, or globally.