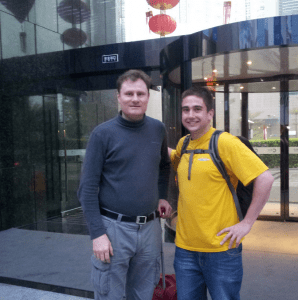 For the past few days I have been traveling with Deverick McIntyre, an amazing business mentor and giving me priceless advice on Social Agent Limited . He is based in Shanghai, and I had first met him in June 2012 at a Lean Startup Machine weekend where he was a mentor and I was a team (Weibo Agent was born). Since then, he has been regularly challenging my ideas and concepts giving me real, on the ground feedback and ideas. Advisors like Deverick have been instrumental in the development of my latest venture Social Agent!
He came down to Hong Kong on Wednesday from his base of Shanghai to spend a few days meeting startups, incubators, and businesses in Hong Kong and Shenzhen. We met up in AcceleratorHK.com, (the first hybrid mobile app development incubator) over in Causeway Bay, Hong Kong for his first trip to Hong Kong for many years, and his first chance to mentor the teams about the customer validation and IT needs.
Wednesday had a networking event in Happy Valley (horse racing, ya!) with the Accelerator Hong Kong guys and Telerik visitors from Europe.
Thursday right back at it, going to the Cocoon coworking space (where Accelerator HK is based), more mentoring, more networking, and of course more hustling! Happened to run into a networking event that was at Cocoon that Thursday evening, and then made an evening transit from Hong Kong over to Shenzhen Bay border via Yau Ma Tai bus stop.
It was a massive border line, almost 2 hours waiting, seems the Chinese people are buying up all kinds of high quality and name brand goods from Hong Kong as gifts for their families when they go home for Chinese New Years! Finally arriving to Shenzhen, a later dinner and then connect with Dave Ho (they had met up in Chinaccelerator Beijing demo day)
Friday morning we were off to the 2nd class of the haxlr8r.com, the world's first PRODUCT / maker accelerator, which is now in a new office right in the heart of Hua Qiang Bei (the world's center of consumer electronics). They are only on their like 2nd or 3rd day, so they were busy with house keeping and team building. Spent a good few hours there, Cyril and Zach (wizards behind Haxlr8r) did an amazing job setting up the new space – and then Deverick and I headed to my startup office over in Nanshan.
Amy is a great team member for our Social Agent startup, Deverick has been able to meet up with her in Dalian, Beijing, and now in Shenzhen. The 3 of us had a long meeting about the current status of Social Agent, and Deverick gave us supportive advice and again – FOCUS ON ONE CORE CUSTOMER, ONE PROBLEM, and ONE SOLUTION.
Friday night Deverick and I went to Shekou and met a few other techie startup friends of mine.
Saturday we went to Xili district of Shenzhen first to visit Seeed Studio, and then the Haxlr8r Generator 1.0 conference discussing how Hardware is the new startup platform, and we must move off of software and web and into physical hardware startup businesses.
Saturday evening Deverick headed to the airport directly from the Generator conference. Was an exhausting, but effective few days traveling to the startup spots in Hong Kong and Shenzhen, as well as getting firsthand feedback and mentorship "on the move".
Business life in China, goes on, moving forward.