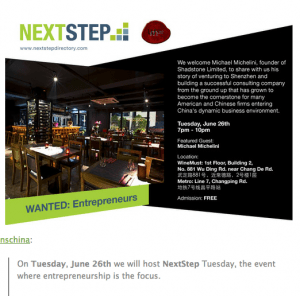 Definitely maximizing this Shanghai trip as much as I can. Exhausting, exhilarating, and business defining for sure! Tonight I'm doing a talk at "Next Step China", which is a Shanghai meetup group that focuses on entrepreneurs both overseas and in China. I'm going to do my favorite talk, that covering my experience coming to China, opening a company, hiring, managing, defining, and finding my niche in business and in life.
I'm totally physched, and will use this same blog post to update with photos and outcome from the event afterwards.
Below is the information I have from their tumblr blog – nschina.tumblr.com/post/21322587084/nschina-on-tuesday-june-26th-we-will-host, hope to catch some blog readers there tonight!
On Tuesday, June 26th we will host NextStep Tuesday, the event where entrepreneurship is the focus.

Location: WineMust 1st Floor, Building 2, No. 881 Wu Ding Rd near Chang De Rd
Metro: Line 7, Changping Rd.

Time: June 26th, 19:00 – 21:30

Cost: Admission is FREE, and drink specials will be served from 7pm-9:30pm.

Topic:
We welcome Michael Michelini, founder of Shadstone Limited, to share with us his story of venturing to Shenzhen and building a successful consulting firm from the ground up and becoming the backbone for many American and Chinese firms doing business in China by utilizing guerrilla marketing techniques and strategic online applications.

WANTED: Entrepreneurs

We're excited to be back, and we look forward to bringing you great speakers and the best set of resources to grow your business in China.
After the meetup
About 30 or 40 people came, not a bad turnout. A bit heavy on foreigners. Adjusted my presentation for the crowd. Have used this presentation about 5 times now in Hong Kong, Shenzhen (2 times), Los Angeles, and now in Shanghai. Pictures are much more vivid, as my friend Huck Liang said – and that made the presentation very interesting.
I went through my experiences going through coming to China, opening my business, hiring staff, firing staff, work permits, converting to a consulting business, and into Chinese social media.
People like the "real-ness" of it, not being ashamed to admit to mistakes. I've previously outlined this presentation as well as uploaded it for those who want to read it.
In tonight's blog, I also want to discuss questions I received in the audience, and chats I had with people after the event. I think it's important to pay attention to the questions after the event…to learn about what people really want to know. (I really want to make an ebook soon! A China Business 101 for startups)
So here go some of the questions:
Have I fired anyone in China, and what was it like?
How to get more Sina Weibo Fans
How to do Guerilla Marketing to get into Consulting
How is the transition from Wall Street to your own Startup
She is a chinese woman working in an investment bank now. And she likes how brave I was to quit my dayjob on wall street. She was curious the transition, and if I am happier now.
Getting through the Beijing Olympics with Passport Visa Issues
Can you help advise me on my startup incorporation in China?