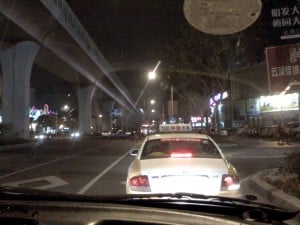 So the roadtrip yesterday was fun….up until about 1 hour before I had to arrive at the VIP dinner for speakers and guests….We were so late, so lost, and under pressure, it took from 9:30am to 8:30pm (almost 12 hours!) to drive from Dongguan, China to Xiamen, China! Unreal……
Well, I documented it while on my mobile phone last night, to record it, and below series of events unfolds:
we get lost,,,,maybe the factory manager told us its Xiamen is closer to Dongguan than we originally thought l, and / or the driver with us had an old or wrong map
One of us calls hotel, finds out my reservation is cancelled at 4pm today, not sure who, maybe its my friend because i tell her i need to change hotel reservation,,,,,maybe they call her today? i did not have time to talk to her yet
The office manager and i are in the van saying who made mistake, i thought my reservation was cancelled and joan booked it all in philip name since he arrive by plane first….more fear for Chinese that its their fault and they are to be blamed.
its 745pm and we still cannot find hotel, joan goes to a taxi, i had our programmer, Jacky, write down address of where i have the vip dinner…..i thought joan is telling taxi to go there….
joan thinking she need to find me a hotel first, to change into my suit…..she tell taxi to find a hotel
i go to back of a fu van to change my clothes….it is past 8pm now…..so I dont have time to go to a hotel first, especially since I no longer have a hotel reservation….
joan stops taxi and checks with hotel ….i get out and angry where are we now…..she said this hotel also have no room……i get loud in tje street and say i dont need hotel now, i need to get to my event. and say i will jst go myself by my own taxi and i give up on people here……and take my backpack only……and drive away, I don't have any of my luggage, and not even most of my chargers (my phone battery is almost dead)

i ask slan to stay in hotel with his friends….he say not much room but ok
joan call me and ask if i need room….i think that my clothes are there and i need to grt my clothes anyway, she say she will prepay and i pay later
she send me qq later that she doesnt pay and i can pay when i arrive there…….i feel strange….and i dont ever trust hotel to hold room without money…..so i feel i will arrive and the room will be gone. so i ask slan to stay his hotel
slan change to bigger room for me, one with 2 beds, and at 12 midnight i take taxi to his hotel
midnight joan ask if i am coming, i say i do not trust the room is really available (because money was not deposited) and i go to slans hotel
she calls get angry and say even i dont go that she has to pay the fee……
i say in china i never trust if its not paid, and she said she would prepay, why she change it – she says she promised them….but for me, all I could imagine is taking a late taxi to this hotel and finding the room is not available and was given to someone else…..
she say she will pay the 250 rmb fee hotel herself and to never ask her for help again, hangs up.
i call back, say i am sorry…just explode after so many problems….she says i always blame her, she is just translator….and that she is trying to help me….
This is common, I believe if you ask any foreigner in China, heck even Chinese in China get annoyed with ineffectiveness in hotel bookings, directions to different places, and just general day to day tasks.
…to be honest I thought I have gotten more patient and am used to this miscommunication….but really, with so many "emergencies" happening at the same time….it overwhelmed me and I had to take matters in my own hands…
Just another example of the cultural differences and stress a "stupid foreigner" (yes, I'm always making fun of myself) has in China…..what seems simple gets out of control.