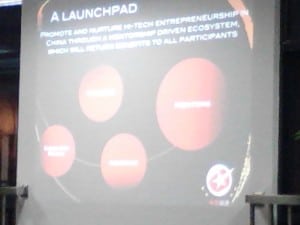 Apologies in the delay since last post…so many things going on this week!
Definitely think this past Tuesday was the best startup Tuesday we have had here in Shenzhen! Cyril spent the whole afternoon solid from 3pm til the event started at 7pm to sit one-on-one with different startups in Shenzhen, about 30 minutes each. I could see (and hear personally) the value they got from a VC and investor standpoint on their business. I am sure it helped reflect on the current business they are doing, and it made me warm and fuzzy inside.
The powerpoint Cyril did was amazing, he really has some interesting things up north in Dalian, China (near Beijing). Its a summer program where anxious entrepreneurs "leave behind their life, they family, friends, and girlfriend/boyfriend" in order to completely submerge themselves into a new startup. The video he showed looked like a "bat cave" – positioned right by the sea, you entered into a complex that screamed creativity and uniqueness. I definitely have to make it up there soon!
We had about 30 people in attendance, at different stages in business. Cyril covered points such as different stages of a startup, its about team building
He also said he is not interested in investing in the typical or stereotypical "copy into China" (like the groupon clones), he wants to invest in completely new and unique ideas, that these can and will come out of China in the future.
My key takeaways!!! 2 of them:
Get A Business Partner!
If you want to really scale a startup and get big, get a business partner. There should be an equal match of a technical cofounder and a business cofounder. If it is really heavily technical, then maybe both business partners should be technical.
Its funny, because my buddy Dan at TropicalMBA just blogged the same topic Should I get a business partner? and his points match Cyril's speech…..it depends if you want to get big or not.
He also said something very interesting, that if you don't have a business partner, and go it alone, then its a warning flag for investors. Is there something wrong with your personality. Many investors force them to get business partners before investing.
And then he discussed how some business startups in his incubator failed because they didn't have business partners and hired (and you can also put outsourced as well) all their people, and after the program, they left because they were burnt out and saw no reason to work without equity…and the business partner couldn't continue, especially the business-strong entrepreneur.
Really something to think about….and many in the room were realizing the same thing as me at that instant (from my looking around)
Don't get investment
Until you really need it, and hopefully they will want to invest in you. He said, don't take money, not even him, unless you really have to. But of course, if you have to, hopefully it will be from him 😉
If you take investment, plan to make a really big business….
Also, not all businesses are meant for investment, and you can live a good life and make good money without taking investment and going big.
But if you take investment, expect to make it big. (sound like a challenge to me!)
---
Below are my "Raw notes" for those interested:
Geeks on a train
Not copy to china
People willing to fail and becomes better entrepreneur
Dalian video of office
reasons why
Nice place to spend summer in china facing the sea
Its cheap for us and for Startups
Cheap for talent. First biz outsourcing center of China …IBM is there
So easy and cheap to get engineers
Real reason ….
Startups need to get out of routine
Need to leave behind your family….life….girlfriends …..birthday party
new environment forces them to work
Peer mentoring
Fundamental for programs and startups
Cannot be alone in your room
Peer mentoring is better than normal mentoring
We also have two Startups from foreign countries come
Last year Ireland and Iran
This year Canada
They see how to leverage china
Learn manufacturing leverage
Three phases
Biz track
Lean Startup …customer development
Tech tracking
Design track
32 countries there….all kinds of mentors.
Why this works ….designed for entrepreneurs by entrepreneurs
Six startups …
Two failed for lack of good people either business founder or tech founder
The reason the business founder failed is he hired five programmers….so didn't focus on the product …..focused on the managing of people ….and the employees didn't stay because it was so much work and why if not partner….so left after seed program ….
Get a partner
If you are a solo founder then investor gets warning signs
Make a good team
---
Those are the raw notes, but maybe scanning it over gives you the best idea rather than reading my paragraphs of blogs here. Going to keep posting my "raw notes" in future blog posts, as I type them up on my tablet via evernote, it makes sure I don't miss anything as the speaker speaks.