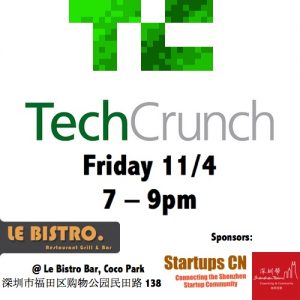 Seriously on a roll lately with networking and community building! Wish I could make it to Techcrunch's Disrupt Beijing! conference this week, but luckily one of their editors, John Biggs, will be in Shenzhen visiting for a few days and planned a quick, informal meetup for this coming Friday, November 4th:
John Biggs
Today, 8:48 AM Saturday

Thanks to Michael Michelini who just confirmed a nice bar called "Le Bistro" in Shenzhen. We'll be there from 7pm to 9pm.

Please tweet or Weibo (is that a thing):

We will have a Techcrunch Meetup in Shenzhen here @Le_Bistro next Friday nov 4 at 7pm.

Website is WWW.lebistro.me

I'm http://weibo.com/u/2495663640 on Weibo (can't figure out how to make it my name).

See you on Friday!
The location is at a nice outdoor bar, centrally located in Coco park (futian) Shenzhen, called Le Bistro.
Le Bistro
Coco Park Entertainment District
Min Tian Rd, Shopping Park 138
Futian CBD –Shenzhen
Restaurant Phone: (0)755 8316 9651 Mobile: 138 0986 9688
深圳市福田区购物公园民田路138号
More to come, just wanted to get this out there….
FYI, also one in Hong Kong, Wed Nov 2
Wednesday, November 2 · 7:00pm – 11:00pm
Location Pier 7 cafe and bar, Hong Kong