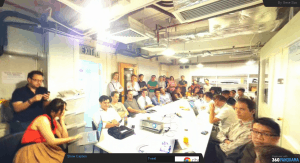 It was an hour to present tonight at #sumhk (Startup Monday Hong Kong), after attending so many of them, it was great to know the audience, and write a relevant (at least I hope so) presentation for everyone. I try to keep it real, but to be "politically correct" Startups HK asked me to title this presentation "Foreigner in China", rather than "American Doing Business in China". Taglined it Was Looking For A Challenge…and Haven't Been Let Down Yet!….
Today's Agenda:
We'll be discussing the experiences I have had as a foreigner in China opening a business and managing the daily operations.
Personal & Business Background
Michael Michelini (Chinese name is 迈理倪 )
Grew up in NorthEast USA (CT, NJ, NYC)
3rd generation American born
Grandparents from Italy, Russia, France, Canada
First website in 1999
Selling online since 2003
Moved to China end of 2007
Shadstone Limited is an ecommerce company selling home & gift products B2C in USA, Sourcing & logistics office in China, Call Center & marketing dept in Philippines, acting as a bridge between USA & China ecommerce companies.
Recently Co-founded first Shenzhen coworking space, SZteam.
So How did this get started, how did I get to China
always wanted to start my own business, 2004 – started selling on ebay, signed up for ecommerce shopping cart package. Kept selling more and more, best success w/ bar accessories. Tried buying from China directly…maybe in 2006? Horrible experience in communication, logistics, payment. Thought to do sourcing directly, full time, and grow ecommerce business 2007, quit day job in NYC, moved to Cali to figure it out, didn't consider full time living in China as an option.
Took first trip to China in October 2007, HK, SZ, Shanghai, Beijing
I love the chaos….I can only learn by doing. Returned to USA for Thanksgiving w/ the family….tried researching opening a Chinese company via google and I COULDN'T FIND any information! Wasting my time with expensive USA lawyers who didn't seem to have a clue anyway, so I went for it…and moved to China!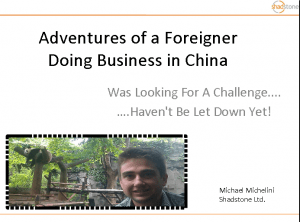 Notice Specifically To A Hong Kong Audience
So many times when I told friends and business colleagues in Hong Kong they would repeat
"Going To SHENZHEN………………….mainland CHINA???"
You will be like a lab rat for a chinese factory.
They eat stray dogs!
One guy went to SZ hospital sick, and came out worse then entering!
Spiked drink, wake up w/o kidney
First Entering Shenzhen….I started Small….
So after some MSN chats to friends I had met in China, had my hotel booked when I landed and took my flight right after Christmas in 2007….with a return ticket booked 6 months later (return flights are so much cheaper than 1 way for some crazy reason)
Using the few contacts I had, i hired a trusted assistant for translation, company setup, factory sourcing. Again, worried "I'm a foreigner in China", will I be flagged, will I get arrested for doing business under the table? Do I need to register all the companies, file all the proper paperwork and taxes.
Many of my Chinese friends there told me "don't worry" you don't need to open a company to do business in China. But then there were others with the horror stories of the American guy having 6 workers working out of an apartment, a police raid, arresting everyone, shutting down the operation, blah blah.
So….not know who to trust, and having my life savings already allocated for business in China, I went with the HK company owning a WFOE (wholly foreign owned entity). Paid the lawyers, accountants, and other professionals for the real advice, and went through the rather long, annoying 6 month process (for me at least, in early 2008)
Different ways to do business in China (legally)
Which type of company? What do you want to do
Sell in China?
Hire in China?
Do you need a separate office address from your home address?
Since I'm talking to startups in Hong Kong, I will compare it to Hong kong. In HK, you can open unlimited amounts of companies at a small apartment anywhere. But in China, you can only register 1 company at an "office approved" address.
Started Growing A Bit More
Getting Up to a Few Staff
Company Filing….6 Month Process
Office Check, Cannot Combine Home & Work.
Got The Business Licence….
Got The Work Permit
Got the "Official Office"
Still Kept the office in its Laid Back style, music playing, open desks, creative environment.
Now a "Big Family" in China
How Did I Get To This Point?
"I smile because I have absolutely no idea what is going on…"
"tread lightly"….Cannot Change China!
Good balance of advice from locals and expats.
Chinese Sometimes Are Just As Confused….
Embrace, Don't Resist. (TIC)
Also, I think you need to just spend FACE TIME in China….I think Chinese see so many
once they know u have spent Ur time pledging
Can you BE FLEXIBLE IN CHINA
last minute business trips
urgent phone calls
constant delays
rapid development means new roads, uninformed taxi drivers.
Hit A Bit of a Wall, Change the Game….
INTERNET IN CHINA , Google China "exited"
Costs rising
labor
rent
food/products
internet slow
no more fulltime Shenzhen office
super Inflation in China
Trip to Philippines
Decided, Value is in Networking
Spoke to Ecommerce University Students
Speaking at Various Chinese Internet Events
2010-2011 Consulting…South China, SE Asia
Early 2011 Fiveislands ecommerce fulfillment between Hong Kong & Dongguan
boot HK
startups HK pitching
Whats Next? Sheznhen Coworking, Ecommerce
Shenzhen Ecommerce Monthly meetups since Jan.
50 – 100 people each month
Just opened first Shenzhen coworking space
SZteam.com (ShenzhenTeam.com)
Expand B2C ecommerce in home/gift market presence.
Continue to bridge-connect China/HK/USA/Foreign ecommerce
Fun Topic – Trip To A China Hospital
Minor Operations, no problem!
Had a small surgery operation in Shenzhen general hospital. Good way to liven up the audience and get a couple chuckles.
Conclusion – Don't Let Things Get In Your Way.
Recommended Reading – Mr. China
Wish I read this book earlier.
Business mix w/ humor.
The author burnt himself out at times… China can quickly run you down.
Bonus – How / Why Did I Pick Shenzhen?
Why not Hong Kong, Shanghai, Beijing?
Beijing – too much traffic, too cold, too much "government", not many factories
Hong Kong – too expensive, no factories, cantonese (wanted to learn mandarin)
Ningbo – friends in China told me I would be crazy to do that, too much "china", I would go crazy.
Shanghai – affordable cost of living (depending where in the big city), but seemed mostly financial companies, slow internet, didn't meet many entrepreneurs
Shenzhen – even though in my october 2007 trip I only spent a few days in Shenzhen, i was left with the impression this was the fastest developing, close vicinity to HK for visa issue and any government risk, and seemed to meet the most entrepreneurs and ecommerce / trading companies here.
---
So, there you have it, I really enjoy blah blah blah story telling and discussing my "business adventures". Again I was told I should write a book….but have all the chapters been completed???
Here is the presentation: