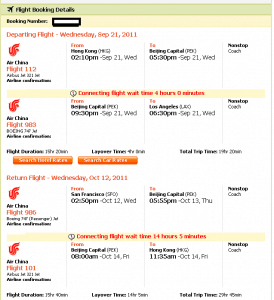 Some of you reading this must be thinking "here Mike goes again….this dude just can't stay put in one place!". In all honesty, I wish I could sit in one place for at least 3-4 months….but alas, this is the life I have created (note that saying, be careful what you wish for!!).
But really, this is a cool life, just exhausting.
So I have been meaning to book my ticket to USA for a while, main reason, one of my home boys from college is getting married, Julian, and after him, I'm the last one that is still single from our crew! So I gotta be there, I'm in the wedding party, its on September 24th, so I'll come a bit before to get over jet lag, and have some business meetings. Below is my crazy itinerary (yea, I'm a boot strapping entrepreneur, so I booked the cheapest flight I could find….so many long layovers…)
Flight booking:
Customer Information
Traveler: Mike Michelini Booked on: Mon, Jul 25, 2011

Departing Flight – Wednesday, Sep 21, 2011

Air China, Flight 112, Airbus Jet 321 Jet
From: Hong Kong (HKG)
02:10pm -Sep 21, Wed
To: Beijing Capital (PEK)
05:30pm -Sep 21, Wed Nonstop Coach

Connecting flight wait time 4 hours 0 minutes

Air China Flight 983 BOEING 747 Jet
From: Beijing Capital (PEK)
09:30pm -Sep 21, Wed To
Los Angeles (LAX)
06:30pm -Sep 21, Wed Nonstop Coach

Flight Duration: 15hr 20min
Layover Time: 4hr 0min Total Trip Time: 19hr 20min

Return Flight – Wednesday, Oct 12, 2011

Air China Flight 986 Boeing 747 (Passenger) Jet

From: San Francisco (SFO)
02:50pm -Oct 12, Wed To
Beijing Capital (PEK)
05:55pm -Oct 13, Thu Nonstop
Coach
Connecting flight wait time 14 hours 5 minutes

Air China Flight 101 Airbus Jet 321 Jet
From
Beijing Capital (PEK)
08:00am -Oct 14, Fri To
Hong Kong (HKG)
11:35am -Oct 14, Fri Nonstop Coach
Flight Duration: 15hr 40min Layover Time: 14hr 5min

Total Trip Time: 29hr 45min

Please note: As Airlines have frequent schedule changes, please call the Airline 24 hours prior to scheduled departure to reconfirm your flight details. Airline Phone Numbers Special Deals and Offers To receive our special offers, emails, travel deals and saving coupons please provide your email below.

Please add onetravel@travelweeklyupdate.com in your address book to ensure delivery of Special Travel Offers in your Inbox. Invite your friends to start receiving special deals and offers (limit up to 3 friends)

Price Details (USD) Flight Price Details
Traveler Type Ticket Price Tax & Fee Breakdown Total
1 Adult/s $695.00 $94.61 $789.61
Insurance Fee: $0.00
Promo Discount: -$20.00

Charged on Credit Card – MasterCard – 5424**02 Subtotal: $769.61
Total Booking Amount: $789.61
Total Discount (Savings): -$20.00
Total Cost: $769.61
Please Note:

Your credit card may be billed in multiple charges totaling the above amount.
Some airlines may charge baggage fees.
Charge Authorization, Your Electronic Signature Copy

I, Michael Michelini, have read the Terms and Conditions and I understand that this fare is non-refundable. I agree to pay a total amount of USD 769.61 (Credit Card Number:5424**02 ) for this purchase. This will serve as my Electronic Signature.
If you notice I fly into LA on Wednesday Sept 21 but have my friend Julian's wedding on Sept 24 in NEW JERSEY (yes on the other side of the world) the main reason is I don't have so much time, and I want to get a couple meetings done in LA, and flying to the west coast is cheaper. ALSO, I cannot use credit card miles for international flights, so I can use my credit card miles for domestic flights (i.e. flights from Los Angeles to New York City) to then catch my friend's wedding.
So I have not worked out all the details inside that window of Sept 21 to Oct 12 (22 days!) but here is the basic idea (and if you have ideas, let me know!):
Wed Sept 21, the first few days is Los Angeles, meet with ecommerce warehouse companies, distributors, friends.
Friday Sept 23, head across country to New York City quickly rush to Julian's wedding in New Jersey Saturday morning. Not sure how long to stay in the area, sooo many friends in Connecticut, New Jersey, New York. Have some distributors, product designers, affiliate marketers, and all kinds of business meetings to see as well. Also hope to visit my university Stevens Tech, again
Head down to Florida – see my family, accountant, my friend who sells her own Tequila wants to distribute it in Asia, also some customers for bar supplies is down in Florida.
Hope to cross up and over to Seattle visit my friend SEOmom at seomoz.org office….as well as check out the cafes all over the place and coworking spaces.
End the trip in San Francisco, California where I fly out to Hong Kong on Oct 12, hope to see Silicon Valley for the first time in my life, feel like now maybe I'm "worthy" enough to step foot there, discuss the coworking in Shenzhen, China, the startup community I have met all over Asia, as well as see what they got going on there.
So….I have a couple more months to hammer down details, hopefully blogging openly will again help me meet new people beforehand and organize more meetings.
Let me know!
---
update, booking my domestic flights
Friday, September 23, 2011
Flight from: Los Angeles, CA (LAX) to Newark, NJ (for my friends wedding)
Continental Airlines 1594
Depart: 10:25 PM
Arrive: 6:22 AM (+1 day )
Mon, Oct 3, 2011
New York J F Kennedy International Airport (JFK) to West Palm Beach International Airport (PBI)
JetBlue Airways Flight 143 Economy Class
Depart: 05:00pm
Arrive: 08:08pm
Saturday Oct 8 will be a full day of travel…
Sat, Oct 8, 2011
West Palm Beach International Airport (PBI) to New York J F Kennedy International Airport (JFK)
JetBlue Airways Flight 142 Economy Class
Depart: 09:10am
Arrive: 11:41am
Saturday, October 8, 2011
Flight from: Newark, NJ (EWR) to Los Angeles (LAX)
Continental Airlines 1142
Depart: 5:45 PM
Arrive: 8:37 PM