Been spending my time here in Los Angeles with my Stevens Tech friend and fraternity brother Abiy Yacob- he's now married to his beautiful wife Kiddy and living in West LA. Have been learning more about him and the Ethiopian culture more then I did when I was in university. I guess I was more "sheltered" then, and focusing purely on school and studies. He has many Ethiopian friends with him here in Los Angeles, and I had a great dinner with them, eating a dish called "Injera". It is a flat bread base, sour tasting. And there is a meat "chili" sauce on top. It is in the culture to eat with your hands.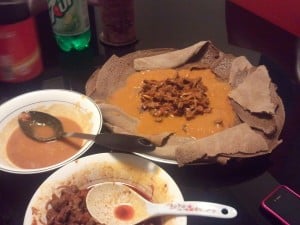 I met some of his friends here from Ethiopia, lawyers here visiting…talking about the growing and booming Ethiopian economy….buildings, developments, opportunities.
Abiy is also doing web marketing and has some projects going, even back in Stevens, he was doing web design, realizing there is a lot of opportunity. So it was great to talk to someone who also had this knowledge and experience, from a bit of a different angle as a web designer.
Another interesting thing about Ethiopia is the large influx of Chinese people coming there to live and do business. Abiy and Kiddy were telling me about the mixed Chinese-Ethiopian babies there, and the growing population and market to this group.
I am just more and more amazed at how much CULTURE is out there in the world. And while I have learned more in China, Philippines, and a little bit in Thailand…..Africa is a place I have no idea. I do know more people in India too, just went to an Indian Wedding and have learned more about culture of my university friends. Strange I am learning more about my college friend's culture years and years later….guess its in a different setting now…real life, not "bubble college" life.