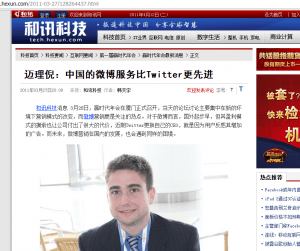 While some may not believe, I survived to successfully enter China and speak about Twitter and Facebook promotion (amazing because the government forbids and blocks it). But Chinese businesses that need foreign customers (ie export businesses) NEED TO USE TWITTER AND FACEBOOK. Flat out, no questions asked, more and more, you need social media in order to compete in today's
You can read about the interview on english social media here, but its all chinese. Here is my best to translate to English (via cleaned up version of Google translate)
China's micro-blogging service more advanced than Twitter

At 20:08 on March 27, 2011 
Source: information technology of: Han Tianyu

  And information technology news March 26, winning times the official Annual Meeting held in Xiamen, a forum for discussion of the day focused on marketing in the new environment change in the mode, and micro-blog marketing is the focus of attention. For the micro-Bo, the foreign start early, but the profit model of exploration but also allow the company to pay a high price, the recent replacement of its own Twitter CEO, is because users resent the increase in advertising. In the future, microblogging marketing development in the country will face the same predicament.

  Mai Li Ni focuses on social media marketing studies abroad, he said that China's micro-blog is more advanced than Twitter has been integrated with the network together as 1. In foreign markets, Twitter is more like life in the role of water, electricity or communications networks. Currently, the domestic market there is no single standard can be more than the micro-blogging service Direct Connect. Mai Li Ni metaphor, as if you are using China Mobile, your friends are using the China Unicom not directly between the two calls, but in fact it is possible.

  Mai Li Ni analysis is that China has so many micro-blogging service, and foreign only only Twitter, the main difference is, Twitter has a lot of open platform, developers can use its API, to link a variety of ways, so that other similar sites and products are not chance to grow up. The domestic market, although the number of micro-blogging service has been started trying to open platform, but can only say that just started, so it created a number of micro-blogging service, the situation of coexistence.

  For the micro-blogging service to achieve its commercial value, step to, and information technology management, said Ni, Twitter does not currently forming a sound business model, just by selling some of the data to make money. When the user up Twitter, you must agree to share some information on their own, or not registered. And Twitter can sell them to Google and other companies to carry out a detailed analysis of the data. Meanwhile, Twitter is also trying to add ads on the page, but users dislike this very intense.

  Twitter has recently changed their CEO, the deeper reason is that some of his earnings for the too hasty, so that users have objections to the Twitter service. Abroad, Twitter such a service has been recognized as a tool should be free, but also attached great importance to user experience.
Basically they really played up the idea when I told them that Weibo is better than Twitter. My friend Larry Salibra is using it much more than I am, as he's a master at Chinese residing in Guangzhou – I have to agree that because it is all controlled by 1 company, the user experience is much more seemless…allowing the photos to be embedded, as well as all the comments to be in line with the original tweet.
The reporter also liked how I compared tweeting like water / utility…and that the future will have to allow the various tweeting systems to interconnect like phone companies have to share their phone number and area codes or country codes.
I still get a kick out of seeing myself in the Chinese news!