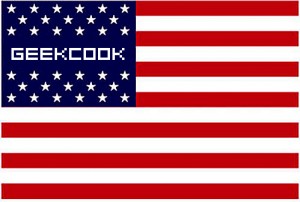 I believe I am a connector, I enjoy doing it, and I seem to be getting better at it. Its just tough to build a platform to connect people between USA and China … still feel I need to gather research, pain points, needs from both sides.
But as I have said before, one of my good friends David Zhang wants to expand his Geekcook brand to USA and we have been discussing this since maybe August actively. He has decent sales in China, B2B and B2C, you can find his products in store shelves even.
During my latest USA trip I met a ton of awesome entrepreneurs and people that want to try something different in their daily lives.
One of those guys, Jimi Olaghere that I met at a Hoboken, NJ coworking space really loved the Geekcook product line since the minute he saw it. He has taken the initiative to do what it takes.
We have samples in the USA fulfillment center and Jimi has been pushing them out to distributors and online platforms, such as etsy.
Being a web designer by trade, Jimi made the English website and put out a PR release announcing Geekcook in USA as below:
We are pleased to announce the long awaited arrival of GeekCook on U.S soil! After
several years of diligently gratifying nerds and geeks across Asia & Oceania with our
meticulously crafted products, we have finally succumbed to the many requests to set
up shop in America. Products like our best selling DIY AT-AT cable organizer which
was featured on Gizmodo will now be available for purchase on our online US store
(www.en.geekcook.net).

David Zhang is master nerd behind GeekCook, his lab is conveniently tucked away
in the industrial region of Shenzhen, China. Here he sources the finest materials to
fabricate aesthetically pleasing concoctions that radiates "geekry" in it's most refine
form. GeekCook is now available at our new online store (www.en.geekcook.net), as
well as other retailers, which will be announced in the near future.
Its been quite an experience connecting Jimi and David. Both having never been to the other's homeland, having completely different backgrounds and experiences. There have been some URGENT, HELP emails from each side where I've had to smooth it over, and I enjoy this process.
The biggest question is inventory, who buys the inventory, where is it warehoused. Who owns what, who pays for what part of the USA market expansion.
David asked me to outline the steps necessary, and I am publicizing them below…..each point could be a book in its own right, but to understand the main idea this can be helpful:
International market expansion steps
1) send samples to USA
2) make english website
3) make sales calls, send samples to USA buyers, commission to sales agents, maybe 5-8%
3a) optional steps – get USA number, have USA time zone people for phone calls
3b) have more stock in USA – need to have enough stock so that if customer buy 1,000 pcs, can ship right away…can try from China to avoid sending many to USA
4) PR news release – announce your new product to everyone,
5) register trademark – maybe need to do this first to protect brand
6) USA trade shows – like alibaba and globalsources fairs in HK / Canton, in USA many provinces have these for gifts and premium products.
7) find sales agents, a lot of sales agents in different USA provinces to sell to chain and gift stores
8) register USA company
9) usa bank account – nice online banking
10) SELL to big department stores in USA? These stores do not want to buy cash upfront. they want to pay in 30 days after receiving the product, or even 60 days.

But this is what I am working on….connecting sales agents to brands. And I believe the better position for me is as China manufacturers need to develop their own brand, they need sales agents and distribution.

Bridging the divide. Step by step.