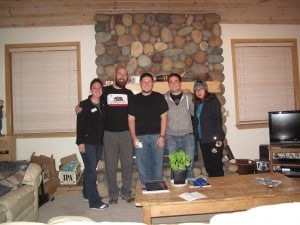 Typing this in the passenger side of Attila's van this Tuesday morning about 9am local time. Day 5 being back in USA, and day 2 of the road trip. Been piecing together this blog post over the last few days – definitely the adventure we were expecting. Blogging less as I'm doing tons of video, as well as weekly podcast – but still of course updating my friends and readers,
So what exactly is the purpose of this trip? Made a fun trailer movie for my upcoming USA trip, check it out on SocialAgent.me/RoadTrip.
Here are some bullet point reasons of the reasons for it:
Haven't been back to USA since May 2012 – lots of people to see, in-person things to do, both business and personal
Show my wife Wangxia around America for the first time.
Meet users and spread the word about Social Agent
Could have flown around various cities (Normally SF/NY/FL) but Attila has this modified van for long distance travel and we have been talking about it forever.
Arrived to America (San Francisco) with Wangxia on Friday – spending the weekend in SF visiting friends, advisors, and investors. The official "Roadtrip" started on Monday when Attila came to pick us up in his modified van. Off to a slower than expected start as he had delays leaving Arizona on Sunday due to more modifications on the van. So leaving SF on noon Monday, we were off!
Making client and business calls on the way – I soon realized Rural America has NO CELL PHONE COVERAGE – man….I was so embarrassed constantly losing connection on my cell phone with Social Agent users….I honestly assumed that America was coast-to-coast coverage by 2014?
First stop was Lake Tahoe, as none of us had been, heard great things about it, and my friend Peter just moved out there from Connecticut. We recorded our daily "Social Agent" video series (trying to do 1 a day to recap what we did / are doing) in a new effort to do more video content to build trust and awareness.
Peter had a nice place, and we had burgers and wine – and our own guest rooms! Up early on Tuesday morning (6am) to head to Portland, Oregon by dinner to meet an advisor, Anne Kennedy.
Hotel on Tuesday night – and then a full day in Seattle visiting our advisor Gillian Muessig and then crowdsourcing specliast Isaac Nichols. Afternoon in Startup Weekend HQ to catch up on how China has been progressing.
I was able to have been connected to a high level businessman and alumni of the same university (Stevens Tech) – Greg Gianforte (thanks to Richard!) and he could only meet on Thursday morning as he was flying out for a business trip – so Attila was nice enough to help me take turns driving ALL NIGHT from Seattle to Bozeman, Montana for an 8am meeting. Talk about stressful – but I do think it was worthwhile to meet Greg, he is an amazing entrepreneur having successfully built and sold startups all bootstrapped. He gave me an autographed copy of this book as well titled "Bootstrapping Your Business"
Bit exhausted as I finish typing up this blog Thursday evening (still on the passenger side of the van) after a long night of driving last night – we will check into a hotel early tonight to get back on track. And still no cell phone reception or internet service anywhere – been doing most of my work locally.
Hope to catch as many friends as I can while stateside Jan 17 to Feb 19!!
1/17/2014 Friday SF
1/18/2014 Saturday SF
1/19/2014 Sunday SF
1/20/2014 Monday SF
1/21/2014 Tuesday North Cali / Oregon
1/22/2014 Wednesday Seattle
1/23/2014 Thursday Seattle
1/24/2014 Friday Montana
1/25/2014 Saturday Mount Rushmore / Bad lands, SD
1/26/2014 Sunday Chicago
1/27/2014 Monday Chicago
1/28/2014 Tuesday Detroit / Clevland
1/29/2014 Wednesday Connecticut
1/30/2014 Thursday Connecticut
1/31/2014 Friday Connecticut
2/1/2014 Saturday New York / New Jersey
2/2/2014 Sunday New York / New Jersey
2/3/2014 Monday New York / New Jersey
2/4/2014 Tuesday Philadelphia
2/5/2014 Wednesday Washington, DC
2/6/2014 Thursday Virginia, Carolinas
2/7/2014 Friday Florida
2/8/2014 Saturday Florida
2/9/2014 Sunday Florida
2/10/2014 Monday Florida
2/11/2014 Tuesday Florida
2/12/2014 Wednesday Florida
2/13/2014 Thursday Florida
2/14/2014 Friday Florida
2/15/2014 Saturday Florida
2/16/2014 Sunday New Orleans
2/17/2014 Monday Las Vegas
2/18/2014 Tuesday Los Angeles
2/19/2014 Wednesday SF
2/20/2014 Thursday Korea