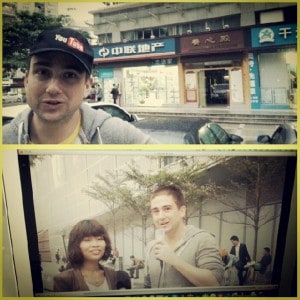 Recently on a call with my mom and dad and they commented I haven't been blogging as much. Well, its not because I haven't been pushing out content! Just in a different way – both voice (Global From Asia podcast) and video (Social Agent youtube video series).
I can credit the DCBKK seminar I went to in Bangkok for finally getting the confidence to "just do it" and be less shy to do voice and video content – as well as "putting my face on my business". I also think I am maturing as I am getting married and have a baby on the way – so that also makes me less self conscious of what people think of my voice and video style. Then again, I think we our own worst critic in life, and I am being hard on myself about the quality of it.
I also got the idea from Sam Marks who brought his eCig business to the UK and recently sold it for a big payday. I was lucky enough to meet him in Hong Kong and he gave me the tip that he recorded everyone using the product as he traveled around, pushing the content on YouTube.
I will keep doing it and improve over time. I can already feel that with the podcast after 13 episodes now, with 6 unreleased interviews. And the video series, I'm getting more confident with seeing myself online, preparing the content.
So what is the video series about? Well, first of all, Social Agent is a startup, and its innovative- its a social referral system – where companies allow online "agents" refer them potential customers for a fee. And there are so many questions about it.
So videos interviewing:
Social Agent client interviews
Social Agent "agent" interviews
Social Agent team member interviews
Social Agent friends
Feedback series on the app and product
How to Guides
I hope this will build more awareness, trust – and maybe even go viral. Learning more and more about the possibilities of what can be done with video. My buddy Larry already said the interview I had with Marshall helped him understand the product more. I think some people will connect / understand other people's explanation of it more than others.
It also gets a lot of attention around me! I setup a tripod in a mall to record and everyone stops and stares. I had some security guards thinking I'm a foreign reporter and try to make me take down my equipment. Guess its part of the excitement!
Also, some say by doing an international business from inside China doesn't make sense, and you can't reach your target users and investors. But I already feel these podcasts and video series are helping expand the reach.
Feedback is appreciate! You can subscribe to our YouTube channel on YouTube.com/SocialAgentMe and maybe I'll even get a chance to interview someone reading this today!
I'm also excited during my USA roadtrip I'll record TONS of these clips and release along the way. And everywhere I travel- I have the whole equipment bag fitting in my backpack!