I guess its like the saying goes "be careful what you wish for". My previous office, was 1 massive room with a glass dividing wall between the office and the main room – NO privacy. So looking to move, I wanted to have multiple rooms, and areas that I could have private meetings with staff and visitors. Here is a pic of my new office, on the top floor (i'm in a multi-level villa now)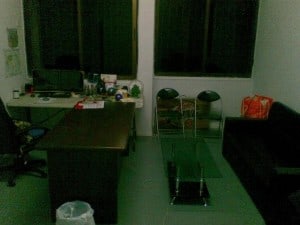 Sure, its a sweet place. I love the "dirty" industrial feel, paint chips on the wall – think it was a CNC machine shop before I moved in, as there are tons of vents and hookups connecting different rooms (and a old sign with a CNC machine to give it away, heh)
But this is what I like – a down and dirty, no frills – flexible work space. But the staff is downstairs from me……I think they're happier as now I have to yell from upstairs and its more difficult for me to do "gut reaction" responses. I have to plan my trips to talk to them more. I create more scheduled meetings. I'm more of a boss now. Scary guy upstairs in his private office……getting called here is a big deal.
But I dont like being the scary boss. The guy in the office calling people in. I want to be the friendly, approachable person. That you can feel comfortable around, share your ideas. Be creative.
But maybe I have to change, at least maybe in China I have to change. I keep getting told "if you are too nice, people will take advantage of you". Or the saying "if you make yourself out to be an ass (donkey), others won't have a problem riding you". And sadly, I think that is the chinese culture. The boss has to be strong. The boss has to be firm. He has to put others in their place, tell them what to do, and not give them options.
My problem is I try to give people options. To be more diplomatic.
So, as I am going through such a huge transition – office move, business re-focus and consolidation into US ecommerce, and cultural challenges….I'm getting the feeling of being left alone in an office. Day and night.
Sure, I keep saying, I will automate my work, I will create workflows. I will be able to travel. I think its getting closer to that, and I need to travel, I need a vacation.
So maybe separating my office from the staff is good, in the long term. I want them to make decisions independently, so that they can manage themselves. This, then, will make the company work on its own – not by my "micromanaging" each step of their job. And hopefully decrease my stress level.
Just sharing my ideas, and feelings. Maybe this is the next step – and maybe this office will be empty a lot as i'm traveling to Thailand, USA, or wherever. That is what I want to do, build international business relations. Strategic alliances. Doing deals, making things happen – so I should be lonely in my office, the days I am working, and get the job done that much faster and more efficiently.