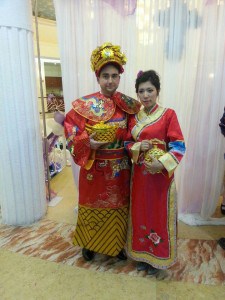 I feel like my blog has definitely spun to be more personal than business lately, but I promise to add more business like posts now that the wedding insanity is behind us.
Weddings I imagine are always stressful. For me, that Saturday last weekend, was also extremely stressful. I think the main concern / worry is "what other people will think". I want people to enjoy the ceremony, and the party. I was also so stressed that maybe I didn't invite someone who would be offended, or didn't pay attention to everyone at the wedding.
The ceremony was pretty hilarious – Chinese was literally translated to English, and we kept in the Chinglish vows as "Do you promise to not derail her train" or "Do you promise to be his mermaid" with my friend Larry as the "Chinese priest / God".
Dinner was kept simple with buffet and a wide assortment of food, as we had some vegetarians and others who didn't like Chinese or Western food. So we did our best to accommodate all. Free flow of beer and wine. I picked the French wine, not because it tasted better than the Australian I was considering, but because the name itself.
I upheld the Chinese tradition to drink at every table, heck I think I drank with every single person. The restaurant charged us for 150 people, though I think it was closer to 120 people.
Haven't drank that much maybe since college, but heck, YOLO.
Packing up for my USA trip tomorrow, and will promise to take more care of my blog and post more of the "adventures" so many request.
For those interested in checking out the photos – we have some select photos here: