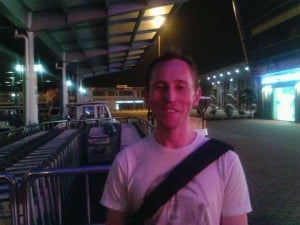 NICE! Welcome Doug Pierce, aka Mr. Doug Unplugged to Shenzhen, China! He found me on this blog a while back and we had been emailing back and forth. When I announced I was taking a trip to America Doug saw I was going to be in Hoboken, NJ (nearby his place) and we arranged a meeting at a cafe to discuss China business and SEO. When I found the hoboken coworking space Mission 50 I re-arranged our meetup there (he is pictured there actually).
When we met, he discussed how he had studied abroad and spent time in Hong Kong, Singapore, and Macau – with a quick 1 day trip to Luo Ho Shenzhen, China for shopping.
He and I have many similar goals and interests, surrounding bridging Chinese and American / Western Ecommerce, as well as quality focus in SEO. We met a couple times while I was in NYC / New Jersey, and got a basic trust and understanding with each other.
We left off saying he would check into his lease and other arrangements in USA and plan to come to China early November.
I had just arrived back to Shenzhen 2 weekends ago and I received a mail from Doug that he was ready to start his re-location! Rock on! he stopped over friend's places in Macau and Hong Kong. We arranged so that he arrived on Thursday night at 9pm at Shenzhen Bay border, I picked him riding my bike from SZteam. I really do enjoy seeing the "eyes opening up" of opportunity, getting Doug setup with a mobile phone plan, place to stay, and other bare essentials. Its added a bit to my daily insanity, but this is good stuff, long term relationship building and I know Doug will do great things in our ecommerce and SEO team!
Doug mentioned his pursuit and long term goals:
Building long term career in China / Asia – He's not here for a 6 month program, he has spent time in Asia before and is here for the long haul! Sweet.
Marketing and building the "made in China" as a quality brand for select manufacturers / trading companies.
Helping American / Foreign investors audit Chinese websites, to ensure they are using "white hat" SEO practices, via his business Digital Due Diligence
Learn and implement Chinese ecommerce
Understand the "China direct" export ecommerce market – I will introduce him to a lot of companies here, there is a massive once a year Chinese ecommerce event Nov 19-20 in Shenzhen via the "hero to hero" Chinese organization.
Get involved and "networked up" in the China / Shenzhen startup scene – he likes what he sees with SZteam coworking and the StartupsCN.com startup community here.
This is overwhelmingly exciting to me….I believe more and more Americans (yes, Europeans and other expats too) will want to come to China for similar reasons, and hopefully as Doug and I work things out, we will build a program for this.
I'm talking to Jun and Gareth at SZteam about scaling this up, matching with more Chinese ecommerce and "product brands" that want western marketing experts, as well as Paul from HIWTO (hero to hero) Chinese ecommerce organization, so stay tuned
As Marie has said, she constantly sees herself on my blog, both in photos and in context, so you'll see plenty of Doug over the next couple months.