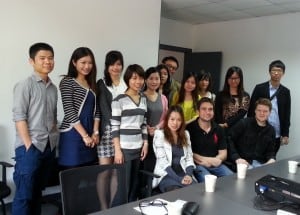 More intense startup life here – after returning to Shenzhen from Echelon Hong Kong with Dan (which, was a VERY late night missing the Shenzhen Bay border crossing, taking Huanggong border and arriving back about 1:30am) – the rest of the week catching up in Shenzhen after travels in Singapore and Hong Kong!
Also prepared for our 3rd public pitch in a week, this time at the Shenzhen, China's Innovalley Open day in the Futian expo center. Our startup, Social Agent, has been able to work at this new Shenzhen incubator for the past couple months and they welcomed us to be one of the 5 startups to debute in the open event. Thousands of people attended this event, it was massive!
The slides were in Chinese, but I pitched mostly in English (threw in some fun Chinese words I know), Amy was there translating, and the pitch deck was in Chinese and English (pretty crammed slides actually). The room gave me pretty good attention – being that I was the only westerner to speak at this full day event. Its amazing how just across the border in Hong Kong everything is in English and international, yet just in Shenzhen you won't see any common attendees. The judges were pretty awesome, and I was approached by a couple who specialize in cross-border investing and are excited to talk to Social Agent more.
It really is an amazing feeling, and almost confuses me to see that no one else is doing it (western tech startups in China) – or at least networking with the Chinese startup community. Guess it gives me more chances.
After the awesome Friday Innovalley event, talking to investors and media – relaxed a bit and prepared for Saturday. Saturday morning rushed to a client meeting to sign a contract, and then to the sales training seminar.
Social Agent is now adding a new feature of online sales assistants to help companies follow up the sales leads in Social media – as language, experience in Social media, and overall lack of time are issues they are facing to leverage our tool.
Over 30 people submitted resumes to be a part time sales assistant for our clients, and 13 of them came to spend the afternoon learning about our new Social Agent system, and how they can get some part time jobs finding and following up Chinese customers in Sina weio and other social media.
I tried my best to talk to each applicant after the 1 hour training seminar I hosted (and Amy was an amazing teacher to support me too!). I love to give opportunities to those who want to get a chance at doing something awesome. I'm happier then ever with how our startup is becoming an amazing platform to enable this type of part time sales for businesses.
To make the day more fun, we hiked Nanshan mountain afterwards (optional of course) and got to know the applicants more personally. Let me think this Sunday afternoon how to move forward, a couple should get immediate placement with a few clients we have, others maybe will wait for more businesses to signup.
Life is moving so fast! But doing what a startup needs to do, PUT YOURSELF OUT THERE!, sure maybe its tempting to hide your idea, keep programming it more, making it more and more perfect before showing the world. But I wouldn't do it any other way than the way we're doing it now. Building, publishing, getting feedback, iterating.
I'm going to Shanghai this Wednesday as well! Keep up the hustle!