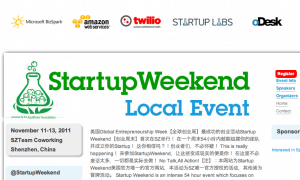 Maybe I won't use the word "scrambling" when I post the news about next weekend's first official Shenzhen startup weekend blog or websites…but here on my "personal blog" I'm gonna keep it real!
I'm truly overextended with all these meetups….but its really picking up steam, went to startup saturdays in Hong Kong, been networking with others from Shenzhen who are attending the Hong Kong events, asking how to build up the Shenzhen startup and entrepreneur community here. From that, being connected with John Biggs from Tech crunch to have a quick, informal Shenzhen techcrunch meetup.
During my trip in USA confirmed and met up with Ahmed from startup weekend to confirm the first official Startup weekend in shenzhen.
Its already coming up next weekend! – I know I'm overextending myself, but I am building up a "new-age" team of freelancers and independent, self-motivated people in the Shenzhen community…and I am trying my best to delegate tasks. Even the time it takes to delegate the tasks for all these events and community building tasks is daunting.
Ok, enough of my rant, here is the plan and breakdown so far for next weekend's (Nov 11 – 13) Official Startup Weekend:
We will have a USA delegate here on site from the Startup weekend, Ahmed Siddiqui. He is also going to the startup weekend in Shanghai for the weekend afterwards, and spending some time in Hong Kong mid- week.
Similar to our Shenzhen BootUP! weekend a couple months back, this is a full weekend event.
Here is some information from shenzhen. startupweekend .org:
Information about Shenzhen's official Startup Weekend
What: – Startup Weekend, weekend long event, Friday night until sunday night dedicated (well, hopefully get SOME sleep at your home)
When:Friday nov 11, 7pm til about 10 or 11pm then Saturday Nov 12 all day, and then Sunday Nov 13 all day, until judges at night.
Where: SZteam coworking space, Nanshan District, Shenzhen, China. Check szteam for directions
Who: – For entrepreneurs, startups who want to try a hack over the weekend, and other small business enthusiasts, mentors, investors
Why: – Taking a "break" from your normal startup or daily life and focusing on a new startup with a new team over a weekend is a great exercise to learn how to make things quick with limited resources and people you don't know already.
How Much: – 100rmb
How: – Apply here –

Startup Weekend is an intense 54 hour event which focuses on building a web or mobile application which could form the basis of a credible business over the course of a weekend. The weekend brings together people with different skillsets – primarily software developers, graphics designers and business people – to build applications and develop a commercial case around them.

Startup Weekends are 54-hour events where developers, designers, marketers, product managers and startup enthusiasts come together to share ideas, form teams, build products, and launch startups!

Startup Weekends are weekend-long, hands-on experiences where entrepreneurs and aspiring entrepreneurs can find out if startup ideas are viable. On average, half of Startup Weekend's attendees have technical backgrounds, the other half have business backgrounds.

Beginning with open mic pitches on Friday, attendees are encouraged to bring their best ideas and inspire others to join their team. Over Saturday and Sunday teams design and develop business plans while constantly streamlining their startup vision. On Sunday evening teams demo their prototypes, listen to judges' feedback and in some cities, win prizes.

Startup Weekends are specifically designed for entrepreneurs interested in receiving feedback on an idea, looking for a co-founder, or who want to learn a new skill. We also welcome anyone looking to test the entrepreneurial waters. Startup Weekends are risk-free environments where everyone is expected to roll up their sleeves and dive into the exhilarating world of startups.

We have to charge a small admission fee this time, we are asking for 100rmb (about 15 usd) per person as we have to cover basic costs and also want to make sure those attending are committed to attending.

I am sure people will really enjoy it, last time we got tons of feedback and positive relationships and team building, I'm sure a bunch of those people will apply again!