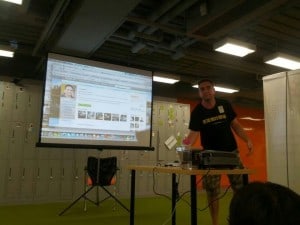 Been in Hong Kong since Friday, trying to stay in 1 city for at least a week now. Since mid May I have been to West Coast , USA for 2 weeks, back to Shenzhen, then Guangzhou Startup weekend, Shenzhen a week, then to Shanghai for 2 weeks, back to Shenzhen for a week, and now almost a full week finished in Hong Kong. I don't like rushing trips as during the trip I meet new people and am able to follow up with them on the same trip, not say "wait til next time I'm in town". And I try to find events happening in the city to justify my traveling there at that time.
So here is my Hong Kong recap:
Friday, the 13th! Told there are 3 Friday the 13ths in 2012, freaky! Been having issues with my Samsung galaxy note (turning off by itself, USB isn't recognizing the device) so took it to the Mong Kok service center Friday to start my hong kong trip. 5 hours and a full afternoon later, I had a newly re-installed and upgraded galaxy note. Not bad that it can be fixed same day!
Later on Friday met up Steve Forte and Paul Orlando in Soho for drinks and startup / tech talk. Finally got to met Paul after many twitter chatters about street BBQ – he just arrived in Hong Kong for a week to facilitate the Boot.camp incubator and startup mentoring program. Few beers and story sharing, also met up my foursquare social media buddy Wendy Tang! Hong Kong is overwhelming, seeing familiar faces everywhere we went!
Saturday was Barcamp HK – my first Bar Camp (yes, unbelievable as everyone says I'm in an event every day) What is bar camp? – no, its not a camping ground full of bars, it stands for Bay Area Rebels Camp – the hong kong local website is bar camp.hk a pretty cool event that allows anyone attending to submit a topic to speak about, and there are multiple break out sessions at the same time and people choose which speaker they want to listen to. There were maybe over 300 people, heavy on IT and programmers there, at the new Cocoon Coworking space in Hong Kong. 45 speaker sessions.
I spoke about Chinese social media strategies, and was rather surprised that in Hong Kong, at least at this bar camp, only about 5 – 8 people out of the maybe 30 – 40 listeners used or even had a weibo account! Hong Kong is predominantly Facebook users. I learned that Hong Kong people don't trust using Chinese web platforms with their personal information. It is so true, HK people are much more reluctant about mainland china than the average westerner!
Saturday night went to Beer Fest in Lan Kwai Fong – absolute insanity! I was so jammed up against people that seriously thought I could have picked both my feet off the ground and still be standing straight up – crushed against the crowd surrounding me! Dave ho was in town from Shenzhen and we partied a bit with a few other friends.
Sunday, awake earlier than I thought, and my good friend and host, Andre Martin, was organizing a beach day at She Ko beach for a meetup session. Was tempted and reminded I could sleep on the beach instead of in an empty apartment and Andre sold me on the idea!
Did get about an hour sleep on the beach, but had to rush off to have a dinner in SoHo with Bruce, another good connection I made in the Shenzhen startup community – he is very interested and happy to hear I'm doing my own startup, Weibo Agent. He gave me some good pointers and confidence that I'm doing the right things. Re-assuring, as especially in a startup you fight and fight and work and work and many times don't get the re-assurance that you're going in the right direction.
Later Sunday headed to TST to meet Kat, I met in San Francisco back in May and bought my awesome TimBuk2 bag with in our shopping session – she is in China and Hong Kong for factory meetings for her homeware product line Modern Twist, and we caught up with some Sunday evening drinks overlooking Hong Kong island.
Monday morning business breakfast at Cafe De Coral with Andre Martin, he's working on a consulting business for budding startups and hoping to bridge them into China with my assistance, so we're talking about cooperation tactics.
Later Monday morning to Quarry Bay, met Jeff who just moved his design company office, GrayScale to a temporarary office and we discussed English weibo interfaces, apps, and Weibo Agent. He had also just enjoyed some time back in his homeland of Holland and we discussed that too. Couple expressos later, I was off to meet Andrew Leyden.
Outback Steakhouse lunch w/ @PenguinSix was amazing, and Andrew gave me a tons of feedback on Weibo Agent, his experiences with the API, and being the massive connector that he is, list of people he thought I should talk to. We spent the afternoon together going from coffee shop to his pool to another cafe – he connected me with some new SF people in town looking for job opportunities and we caught up with Casey Lau to tell him what I've been upto, the Shenzhen startup community, Startup weekend in China, etc. Casey and Elle are working on Weibo Today podcast and I'm interested to cross promote. Lots of interesting talks.
Monday night headed to Mong Kok, met Doug Pierce, he's doing pretty well for himself now doing SEO and due diligence work in Hong Kong. He heard about my updates in Weibo Agent and is interested to get involved in a UI prototype and SEO work. interesting discussions, and had to grab a beer at a local shop due to flash rainstorms on the walk to the MTR.
Tuesday morning mentoring at Paul Orlando's boot.camp in BootHK – talked and shared my ideas how startups can use keyword research (SEO) to learn about the target market, find niches, and get ideas of value added services and content for their website and startup business. Steve Forte and Bill Liang were also mentors visiting that day, the startups had some valuable learning sessions – wish I could have stayed for the others!
Rushed out of the mentor session to get to TST for a consulting session with Scott and Alex. They are 2 UK entrepreneurs running successful telemarketing businesses in USA and UK and now are expanding to the China market. They value my expertise and have retained me to learn about how to import into China, register a company, merchant accounts, hiring SEO and web designers, callback systems, the works. It was an intense afternoon.
Got requests from Huck in Shenzhen (via weixin) to pickup Jenny's bakery cookies for his daughter (he's stalking me on Google latitude) and then headed back to Wan Chai to meet my domineer buddy Gary Lam for German sausages and beers. He and I talked as friends but also about web domains and internet businesses, programmers and the startup situation in Shenzhen and Hong Kong. Wondering how to find programmers and how to build up domain portfolios. always a fun talk.
Quick drinks with Paul Orlando, and then to the Pawn to finally meet Nini Suet, a dynamic entrepreneur who was with CNN in Beijing and Hong Kong but now doing her own startup Qipost.com – really amazing discussions about china, usa, hong kong and web / media business.
Bring us back to today, Wednesday and I packed up this morning, dropped the keys at Andre's north point apartment mailbox, and headed to Cocoon coworking space to network with more startups and entrepreneurs. Gary came by again, and I am still amazed at this massive coworking office right in downtown Hong Kong! 14,000 sq feet. Melody stopped by, a linkedin connection who wants to work for a startup and has Tencent experience in Shenzhen. Tons more meetings and talking with other startups in Cocoon – really cool time!
Gary and I headed back to Wan Chai, he had to exchange a battery at the market, and I had a 4pm meeting with Ken Kwok from Beehive Analytics consulting to talk more deeply about Weibo Agent. Ken is a analytics guru, one of the best in Hong Kong – and got tons of feedback and ideas for how to better position Weibo agent in the analytics market (its really becoming an analytics tool, talk about pivot!)
Typing this up on the bus to Shenzhen now – just reflecting on all these meetings and events is tiring me out. Not to mention during these meetings I was taking care of business via emails – building up a startup team for Weibo Agent, managing multiple social networks, and my team in Shenzhen.
Exhausting, but at the same time, I can't imagine living life any other way.
And again, I credit a lot of this to social media, being open about my life and business online, sharing and networking – its amazing.