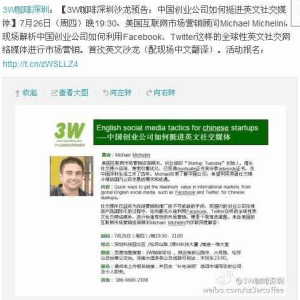 Been quiet lately from events and blogging, but I'm excited to check out the newly opened Shenzhen, China 3W internet startup cafe and speak on tips for English social media for a Chinese startups and entreprenuers.
Spent this morning (Tuesday at Tencent HQ to meet the organizers and we came up with this topic, and have been last minute promoting it to the community.
The Chinese advertisement is on Sina weibo event page – http://event.weibo.com/537889 , here is my summary for those non-Chinese readers:
Topic: English social media tactics for chinese startups
Speaker: Michael Michelini
Date: Thursday July 26, 2012
Time: 7:30pm to 9pm
Address: Shenzhen 3W Startup Cafe, north High Tech park
(chinese)
南山科技园北区松坪山路1号源兴科技大厦2 楼
Cost: Free
Will add some photos and topics after the event below
(post event) – wow that was amazing! Over 100 Chinese Startup entrepreneurs came out to hear me talk about English social media strategies for Chinese startups.
Personal & Business Background of Mike
Michael Michelini 迈理倪
Grew up in NorthEast USA (CT, NJ, NYC)
3rd generation American born – Grandparents from Italy, Russia, France, Canada
First website in 1999
Selling online since 2003
Moved to China end of 2007
Shadstone Limited is an B2B consulting
New startup Weibo Agent, helping foreigners on Chinese SNS
StartupWeekend Shenzhen Facilitator
Startup Tuesday in Shenzhen
I Make Chinese Babies Cry!
Do Foreigners Trust You?
SEO is Dying!
http://www.forbes.com/sites/kenkrogue/2012/07/20/the-death-of-seo-the-rise-of-social-pr-and-real-content/
SNS similarities to SEO
SEO
@Backlinks replies
Content about your industry
SNS
Anchor, Lists, Text
Weibo Vs Twitter / Facebook
Twitter Facebook Sina Weibo
New People Can Read Y N Y
Easy to Use N Y Y
Comments In-Line N Y Y
Open API Y N 50%
Ecommerce (E/C) friendly N Y Y
SEO Benefit Y N Y
B2B Relations Y N Y
8. Getting on English SNS from inside China
While Inside China
• Tweetymail
• Foursquare
• Nutshell Mail
• VPN
• Mac
Understanding Success in Social Media
• Understanding Success in Social Media
– Is it a twitter account with 10,000 followers better than one with 1,000?
I can buy 1,000 sina weibo fans on taobao for 2 rmb! Does that make me successful?
Its more complex than that.
• What's your Purpose?
– PR
– Sales?
– Build community
– Your customer sell for you!
Klout Score
The Klout Score is the measurement of your overall online influence. The scores range from 1 to 100 with higher scores representing a wider and stronger sphere of influence. Klout uses over 35 variables on Facebook and Twitter to measure:
• True Reach
• Amplification
• Probability
• Network Score
3 Ways To Represent Your Startup
• Founder / CEO / Spokesman (1 person tweets)
• Department shares the account (recommend cotweet.com)
• Each worker has their own twitter / facebook account (@Startup_Mary @Startup_John)
The Social Media Cycle
Listen (search)
Engage! Meet!
Act Have Fun!
Listen
• Monitor keywords
– See what people are talking about
• Your brand
• Your products
• Your industry
– First you'll listen to everything • Probably not possible • Tweak, refine, focus.
Tools For Listening
social mention
hootsuite
tweetdeck
Engage
• Businesses seem to be scared of this
• Sharing valuable information relevant to your type of followers
– News in the industry
– Fun facts
– Interactions in the office
Be Approachable!
• Beta Test
– Survey
– ASK WHAT YOUR TARGET MARKET WANTS!
• Retweet, @ reply, add value, jokes
Easy Way to Engage – ReTweeting
I know some people in this room better because I notice them retweeting me on twitter! Thanks Vinnie. But this is an effective way to get attention from your target industry influencers.
Act
The whole company has to be "on board"
– Plan on how to react to certain situations.
– Which departments are responsible for which situations.
– Does the CEO need to get involved?
Automation Tools
Chirpsy – Creating Content
IFTTT – RSS / Blog / News to SNS
Followerhub, socialoomph
People Like REAL
DO NOT BE A TERMINATOR ROBOT! Do not be a spambot! Leverage automation to help you add good content, but do not just let it go on autopilot, because you will scare people from contacting you – you need to be personal.
The hardest posts for me to publish have been the most popular
Case Study, DeskElf
http://www.carolroth.com/blog/social-media-case-study-deskelf-com-from-twitter-engagement-to-television-plug/
How Did DeskElf Do That?
• Had an interesting PHOTO, name, (i.e. didn't look like spam bot!!)
• Searched for their target customer / audience
– Followed them
• Highlighted an reporter / blogger in that industry
– Listed them• Conversed with them
– Sent a Direct Message
– RT (retweet) their messages / helped them / shared
Recommended Reading – Trust Agents
Trust Agents book by Chris Brogan, an excellent Social media consultant / guru.
Chapters from the book
1- Make your own game
2- One of us, feeling of belonging
3- The Archimedes effect – leverage (web)
4- Agent Zero – center of networks
5- Human Artist – soft skills, work well with other people
6- Build an Army
Crist (Jesus Christ) Formula
This is a great formula I use from the Trust Agents book. It always gets attention when I have Jesus Christ on it. And then I scroll back to the Terminator robot slide and say – do you want to be Jesus Christ or Terminator?
(C x R x I) S =T
• C = Credibility
• R = Reliability
• I = Intimacy
• S = Self Orientation
• T = Trust
Question & Answer
Got some interesting questions – like to document them so I can improve future presentations:
Can you share the slides – yup, doing that here!
Have you done Weibo marketing for a chinese company before – not exactly relevant to this english social media seminar, but I have helped western companies on Sina Weibo.
Linkedin, that isn't blocked in China – is that effective? I didn't mention linkedin in this presentation (only have 1 hour….) but yes Linkedin is an effective tool for your business, more on an individual / professional level. I'd recommend making a linkedin group – not being for your company, but for your industry. If a group already exists, join it and add value in it – you will meet many people who you can cooperate with. But do not DIRECTLY push sales…
What tools do you recommend, like SEO tools she uses are Magestic SEO. I recommend SEOmoz (have a social media tool inside) also Klout for measuring, there is also PRnewswire (have a social media monitoring tool), as well as Radian6 (expensive)
Why use chirpsy when I can get news.google.com updated news on my industry. – my answer is , yes, many things in life you can do yourself, chirpsy helps you automate that, as well as have crowdsourced people writing custom headlines for you.
How to convince your boss to wait 3 months – show your competitors success, and make him/her feel like he/she is falling behind (because they are!)
How to build a SEO team – this is a pretty complex question, a new seminar to answer it. But you need writers,
I have a local business in Shenzhen, to attract foreigners here should I use twitter / facebook or local english websites? – fast answer, use local english websites – shenzhenparty shenzhenstuff shenzhen-standard. Foreigners also don't like VPN in China to get to facebook and don't check it as often.
Startup Community in Shenzhen
Jonathan Qui talked about the startup community in Shenzhen. Startup Weekend Community throughout China is growing, Startup Tuesdays in Shenzhen
Here is the powerpoint slides – everyone always ask (sadly slideshare is now blocked in China…) We are also posting on the 3W cafe weibo event page.
http://www.slideshare.net/mikemichelini/3w-cafe-mike-michelini-english-sns-for-china-startup-v2