Being Friday the 13th – i know a bit superstitious, but anyway i went out to visit a factory of LED for the electrapour LED pour spout. Have been using various sources to find the best quality (brightness, focus) at the best price. Took a trip out this afternoon to a LED factory in Luo Ho district.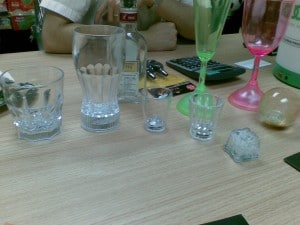 While I am not focusing on sourcing new products from China and Asia as a service, its still so interesting and fun to check out a factory, and LED is a hot topic today.
Developing electrapour has been a roller coaster ride, seems I have made great friends, as well as some people who even write negative comments on this damn blog (guess its upsetting the LED flashing pour spout competitor product). But thats business, and that is life!
Again, my style is always go head first into something and learn as I go. Never be afraid to lose, to get into something over my head. Some say that is negative, some say its positive. But I have learned a lot about new product design, patents, trademarks, moulding, assembly, packaging, distribution agreements, the list goes on and on.
I have also become pretty knowledgeable in LED specifications. There is angles, there is the MCD brightness, depending on colors, sizes, shapes. The world of LED is booming, and everything from overhead lighting in home and commercial lighting to all these fun little gadgets like the electrapour – LED is there.
The factory had a few other products too – LED glasses, shot glasses, ice buckets. I still get a kick out of seeing competitors and other distributors products in the sample showrooms in these factories. But while it is funny, it also makes me be aware that this is happening to me as well.
Its about being aware….and business in china, and new product design, development, and distribution is pretty cut throat. So many regulations, internationally, you just gotta hold onto your butt and get it done. But being aware, and prepared for anything is just something you have to learn by experience.
Being back in China, and back in factories…..just a bit still gets my mind and imagination going.