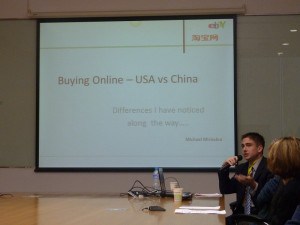 I am getting on a roll making these meetups in all the cities I am traveling. Seems to be building on itself, but I have to say, I get more interested people to meet about business when I am in China. Seems this is where the most densely populated area of people, both local Chinese and foreigners, who want to build businesses and seek opportunity.
This Shenzhen ecommerce meetup came from a open forum discussion over a month ago on the Shenzhen stuff internet marketing group I made years ago. People had been asking for me to call a meeting and get all like minded people together. So this wasn't a two or three day prepped event, it had been discussed for a few weeks via online forum.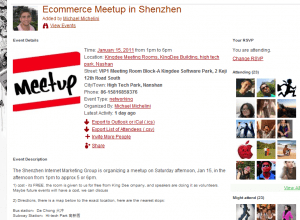 Still, I was trying to guage what people wanted, I didn't want it to be another "bar drinking networking event", but rather a way to connect chines and foreigners in a neutral setting focused on business.
In the past I had presented at a punch party speaking about USA & China business differences with Guang Yao in the Nanshan High Tech Park, at the King Dee building, and after talking to the group afterwards, they told me I could use this new King Dee company meeting rooms for other events in the future if I ever needed. So I remembered this for this event, as it's a very nice, professional setting in a high tech park…only thing is its hard for people to find, especially foreigners, as it's a new area in the high tech park, and taxi drivers don't know the names of the streets yet.
There were 3 speakers for this first event, I would speak generally / high level on the differences I have noticed between Chinese and American / European (western) ecommerce, guangyao.org Guang Yao would speak about Chinese Social Media (download pdf slides), and Huck Liang would speak about Importing goods into Mainland China via Hong Kong.
As expected, people had trouble finding the new King Dee building. A map and photo was posted on the event page, and….as much as I didn't want to, I listed my mobile number so people could call if lost or needed more specific directions (thinking to setup a separate phone number now to post online). So while it was supposed to start at 1pm, we allowed general meet and greet between attendees while I and others were doing are best to text and voice call people to direct them to this location.
Approximately 50 people attended the event, from Shenzhen standard email blast to the Shenzhen stuff event page, couchsurfing post, and direct invites from myself and others attending, I definitely feel it was a success, especially for the first meeting of its kind.
I spoke from about 1:30 to 2, we took a quick break, then Guang Yao spoke. I had asked him to present in English, but he insisted he was more comfortable to speak in Chinese as he is not confident of his English. A common issue, I and other foreigners here just have to learn that we are in China, and if we want to do business here and learn, we have to become fluent in Chinese!
Huck couldn't attend, but he gave me his notes on how to present on importing into China, which I presented on the whiteboard.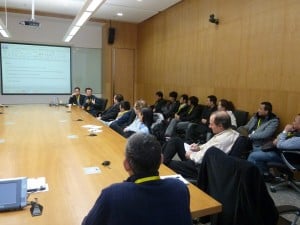 After the 3 presentations, I wanted a bit of an open forum about what the next steps are for the group, how often to meet, what topics / focus, good day or time to meet. Seems people liked the Saturday afternoon, and the fact that its not in a bar or restaurant. I think when its in a bar or restaurant, mainly only foreigners go. Some wanted to have meetings focused on startups, new technologies, comparing English and chinese business practices. I am more interested in keeping a more focused group based around internet marketing and ecommerce, but maybe we'll branch off into a couple different groups.
Date hasn't been set yet, but approximately 1 month from now, after the Chinese New year, on a Saturday afternoon in the same King Dee meeting rooms. Looking for speakers, hope to keep it focused on internet technology and marketing.