Spent a few hours today with my trustee assistant Melissa Zhu at the local Nanshan Public Hospital, here in Shenzhen, China. Besides a blood test / drug test for my passport z-visa, this was my first time at a public hospital for a regular checkup. So let me note my experience, it wasn't as scary as I could have imagined (hate hospitals regardless, but when you cannot communicate, its even scarier!) I will compare to what I know of in a US hospital.
I wanted to go during lunch today, but Melissa told me the hospital is closed for lunch – from 12 noon to 2pm! She didn't think this was strange, but I know in US the hospital is always open. I didn't setup an appointment, didn't seem normal or necessary. about a 10 minute taxi from the office, we arrived maybe 2:15pm.
First, I needed to buy a health record book (picture below), that cos 7.5 rmb (approx $1.20usd), this book could be used at any hospital in Shenzhen city, but you needed to buy it to see a doctor and it would be your record of health in the city. After waiting in line and paying there, we went to a certain floor for the department of doctors we wanted to see.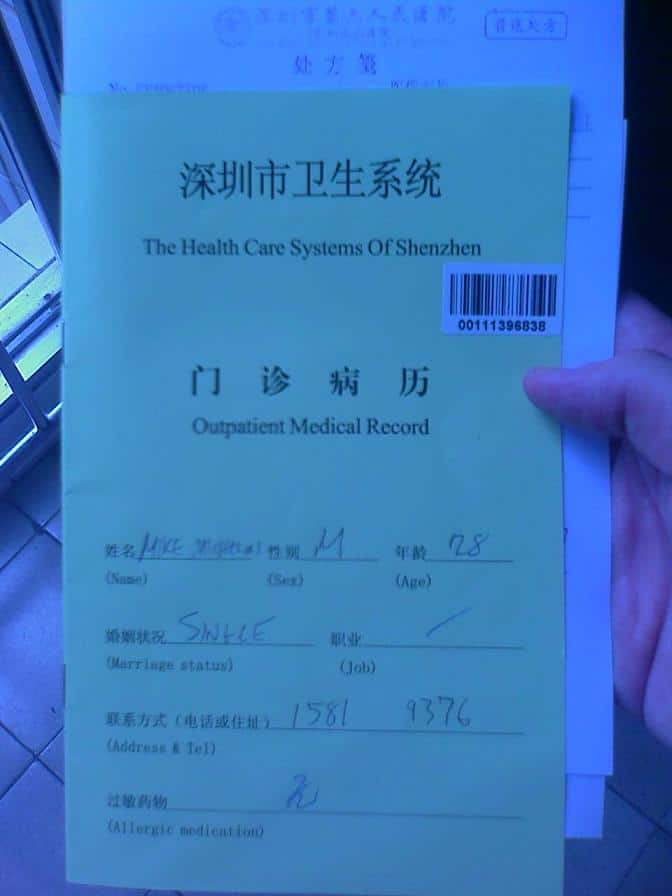 15 people ahead of us! But it was only maybe 20 minutes in the waiting room. A bit of a fight when I went into the room, as a woman claimed she was ahead of me in line and waited longer. But we got in after a few minutes. Did some checkups, HAD TO PAY at a cashier in order to see my results! Paid cash, waited in line. Then got the results (healthy, phew!), and then had some medicine to pickup downstairs.
Throughout the hospital there were workers pushing around barrels of burning wood, and Melissa said this was to prevent spreading of the swine flu and other airborne virus. Bit hard to swallow the air, but along we went.
The pharmacy was built into the hospital, and we paid in cash, received the pills, it was rather seamless and direct.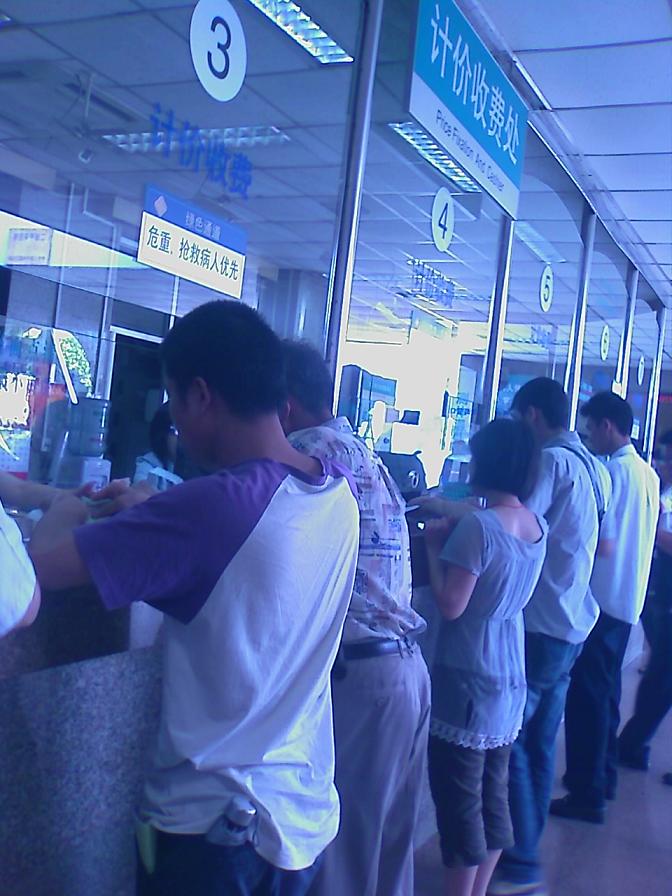 So overall, my experience in the Shenzhen, China hospital was 1 hour, quick, easy, and CHEAP. I paid about 120 rmb ($16usd) for checkup, booklet, taxi, and medicine. Again, I hate comparing, but it made me realize how messed up the US healthcare system is…..