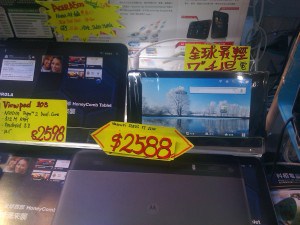 No, I am not paid to post this, though I should ask for free phones from some mobile companies next time I need to get a phone ,as I blogged a few times about my electronics purchases mac air, viewsonic tablet, stolen samsung galaxy S, but I enjoy sharing my purchases and getting feedback…its good blog content!
So this weekend while in Hong Kong, I bought a CHINESE BRAND (Hua Wei) 3G tablet for 2500hkd (about 320usd) that is both a tablet and a phone. I bought it from the same shop in the Wan Chai computer city as I bought the last View Sonic tablet (Which they no longer carry)….and they didn't seem to remember me, or care to remember me.
So why did I choose a Chinese Brand! Well, I am told that they are the OEM for HTC phones, I want to experiment with a Chinese brand product (though others have broken rather quickly). It does have a 1 year warranty.
Plus, in the Szteam coworking space, 3 full floors of the building are occupied by this Hua Wei company…and the past few days on the elevator I whip out my tablet and show those hua wei workers my phone. Gets some good conversation.
The specs are
—
Huawei brand
Ideos model, S7 slim tablet version
docking port on the bottom edge.
SIM slot underneath the battery
CPU: 1 GHz Scorpion processor, Adreno 200 GPU, Qualcomm QSD8250.
RAM: 512MB.
External Storage: Micro SD Card Reader up to 32GB.
Display: 7″ Touch Screen.
3G Support: Built in up to 7.2Mbps.
Camera: Front: 0.3MP Back: 2.0 Mega Pixel.

Product Features:

Popular mobile communication services.
Support WCDMA/HSPA GSM/GPRS/EDGE
Support voice communication, SMS, MMS, Email and mass mailing
Enjoyable HD media playing and multi-tasking.
Support multi-tasking
Support 720p media playback
Easy and portable Internet surfing experience.
7″ touch screen gives you full-screen web browsing experience
Support WiFi 802.11b/g/n15.5mm
ultra slim, weighs only 500g, easy to carry about.
I also like that I CAN REPLACE THE BATTERY, the Mac products, my old Viewsonic tablet, and many others lock the battery inside the casing…now I can buy a few extra batteries and exchange them when I need it.
But again, I am not really amazed that Chinese now are making their own brand. I have been saying this over and over again…as prices for manufacturing rise in China, Americans and other foreign buyers will move their purchasing budgets to other countries, such as Vietnam and other SouthEast Asian countries. I have attended an Chinese ecommerce conference in Chengdu, and the main topic was that as the costs in China rise, companies need to build their own brand to protect their businesses from losing the B2B OEM orders of overseas brands. I also attended SEO conferences in Xiamen and pushed and pushed the audience they need to get smarter, and realize that this is the future.
This is also why I am working on making Szteam a business training center, as Chinese companies will need to invest more money in "white collar" training for their office staff, such topics as project management, internet marketing, sales, etc.
Another case of a Chinese brand is Lennovo, which was OEM for IBM thinkpad laptops, and now has taken over the brand ?????????????????????????????
As an American businessman, I hope this post makes other Americans realize they have to think smarter as well… the world is becoming more and more flat its not just outsource your development to another country and collect the cash…..the whole world now is getting more developed, more inteliigent, and we all have to t hink smarter, faster, and on our feet.
Lets see how this Huawei tablet holds up….so far it has frozen on me a few times and it hasn't even been a week….though I can get it serviced in the same building I am working….and it will be an interesting excuse to check out the Huawei offices.