I guess if it was easy, everyone would be doing it. And as much as I complain, I like the adventure, the struggle. But hey, I have to vent.

While I am traveling in Shanghai, my USA merchant account was PUT ON HOLD. Piling up problems taking payments from resellers, and losing orders from retail customers….it caused loads of strain on support…and of course on me and my poor little email inbox….this poor email box takes a large load….
I feel I am RIGHT IN THE MIDDLE of this ecommerce consolidation between USA, China, and the world – direct shipments and order flow. But seems the biggest issues are fraud, banking, shipping, and fake products. Really trying to bridge the divide here…..but this latest story was funny.
So I had a customer last week get upset about an order and having it partially filled and another product sent late from a different warehouse. I saw in the email thread that he threatened to dispute his charge…and while the customer service for the website I manage tried their best to help him, he followed through with his dispute.
So then the merchant bank called me, but of course my USA number goes to a call support team – so I can sleep at night here in China. When the merchant bank called, they can only speak to the account holder, which is in my name. Marie told them I am traveling in China. ALERT, FLAG The processor thinks "This company must be a fraud! Who travels outside of USA!?!?!?!" (being sarcastic here). They put the account on hold….Luckily, I have good relations with my merchant account provider merchant solutions llc …and when I talked to my account rep – Andrew (yes, Andrew my boy since childhood) he is like…oh man……and he knows the amount of patience I have….so he got it taken care of. But it has been a few days of downtime.
Andrew tells me, "well mike, you aren't exactly a normal case, we don't have many people outside of USA here with accounts".
It is true…..and I have so many chinese companies pushing me to get a USA bank, a USA merchant account…..
But on the USA side, no one would dare approve a Chinese company to have a USA merchant account….
….in a way it is true, even spending almost 3 years here, there are very few people here I would trust to sell on a USA bank account. The temptation is too great here to do……"grey" or "black" items. And the mentality is, for the most part, "hey, if I get banned, I can open another account". Chinese people are very systematic, they do not give up. They keep trying, learning, taking notes, and improving the ways they do it the next time.
A machine. And in the internet marketing world….Chinese are studying it very closely……how to get more traffic, how to get higher in google. And it scares me…..a billion people here all studying how to sell in a "richer" USA, with a population of 300 million..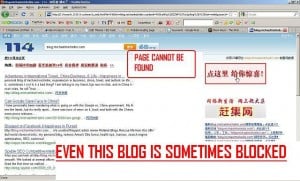 And at the same the same time, the Chinese government filters websites, information, and search results in their country. It actually gives people in China a disadvantage! Even me…I'm here, tryin to get onto facebook, twitter, and other websites to network and market….but the Chinese government deems these sites as "unwarranted for the Chinese people" as they claim it spreads untrue and damaging information to Chinese people.
So here I am, stuck in the middle of this…and it is frustrating.
Trying to "be American" to get banking done, and then "be chinese" at a dinner chugging beers and surrounded by cigarettes in a restaurant, eating chicken feet and fish head soup.
Its a damn interesting challenge. But it weighs on me…..I really think I have to "take a breath of air" and spend some time back in USA….always fighting here in China, to get to USA banks, to get to certain websites. EVEN THIS BLOG has problems sometimes…..I think its the wordpress technology and somehow the Chinese firewall at times has ways to slow it down or block it, maybe if I am on on China telecom internet or china Unicom…..certain locations. Its jsut so random, no one can really explain it