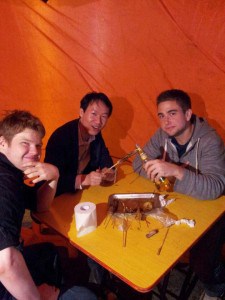 Back in Shenzhen now for about a day – resting up for one of the most hyper-active Shanghai business trips I've been on! And digesting (as mentioned in this blog title) means I did eat chicken and am still in good health (for those who aren't aware, there is a H7N9 scare in Shanghai now). But I did have some great BBQ times and bonding with good friends in Shanghai.
I stuck mostly to this Shanghai travel itinerary starting off with another amazing Startup Weekend. Sticking on a boot strapped entrepreneur's budget, have been leveraging every friend and connection I have to last the 10 days in Shanghai without a hotel! That alone is exhausting!
Shanghai is where Foreigner Selling in China are!
But Shanghai definitely is where Social Agent's customers are. Every day I am talking to more and more clients there – to help them find customers in the Chinese market. It is true, Shanghai city is a cosmopolitan city of westerners coming to do marketing and sales in China.
Of course, any business would say, go where your clients are. I've been down in South China for so many years, many forces have been pulling me up to Shanghai and Beijing. But now that Social Agent is finally built up and live, and our team is getting better at talking to each other remotely. Not making any decisions just yet – will probably be traveling on the road like I have been for so many years – but definitely need to spend more time in Shanghai and Beijing.
Hong Kong Training About Selling in China
I am hosting a General assembly course in Hong Kong about selling in Mainland china, curious to see how many signup. I am more and more under the impression that the South of China is still for export from China business than domestic china business.
Lets see how many companies in Hong Kong care about selling in the China market. More and more, after my travels to Singapore and Hong Kong, I learn these regions are not focused on selling to the Mainland China market. Really strange to fathom that -but really is "just data" from my experience talking to businesses.
Complexities of Doing Business in Asia
I just also realize, having everything spread out all over Asia makes doing business that much more complex. Again an advantage of a startup community is keeping everyone in a close proximity. But having so many different cities focused on different focuses – basically its a few things
Hong Kong – where my tech co-founder, Chris Li is, as well as a few other part time tech and marketing members of the Social Agent team are based. But seems not many people doing China business are based.
Shenzhen – where I've been so many years, across from Hong Kong, much cheaper, mainland China, but mostly export e-commerce companies.
Shanghai – marketing / financial center of China. Also tons of westerners there to sell in Mainland China.
Beijing – IT and government capital of China. Its the IT center, because the government is there – as the internet is so closely regulated.

So thats basically how China is laid out. I'm still digesting