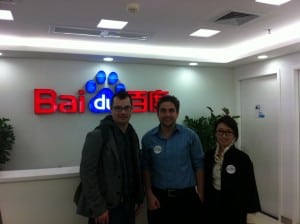 As China continues to develop as a consumer market, more and more American and foreign companies contact me about selling online in China. While in the past, my main focus has been English language SEO and e-commerce, I do see the growing opportunity for Americans and other companies who are seeing the growing China market and are lost as to how to position themselves to get in….
I love blogging, and have been doing it for almost 5 years now….it has also become a center for me to receive new inquiries for SEO and consulting business. Below is how I met Adam, from Shenzhen Dowin that is in the process of building up their China-based website and not only using their USA office for sales and marketing, but also trying to leverage their Shenzhen office for Asian and China market sales.
from: Adam
to: michaelmichelini.com
date: Tue, Jan 24, 2012 at 5:34 AM
subject: Enquiry – SEO in Shenzhen

Hi Michael,

I was provided with your contact details and wanted to reach out to you and enquire more about your experience with SEO in Asian markets. We have recently launched a website for one of our Chinese counter parts and are looking for vendors that can help the company promote their website. I'm interested in speaking with you to get a better understanding of your experience and availability. I'm actually going to be heading to Shenzhen in February to train product management and placement on the site as well as cover some SEO best practices. Additionally we are interested in sourcing some or possibly all of the marketing efforts to someone that has a good grasp of Internet Marketing in Asia.

Please let me know if you have some time this week to discuss this in more detail. I would love to connect with you both now and potentially during my time in China.

Best Regards,

Adam
We had a few phone calls and skype chats. Adam was doing a bit of research that day of Jan 24, as he also emailed Baidu directly. After about a week or so of our chat, he later forwarded me the email he sent to Baidu (as they hadn't replied in weeks). It still amazing to me how much a barrier or a divide there is for one company in one country to try to contact and do business with another company in a different country. Not as simple as simply writing an email….
Below is the email that Adam is still awaiting a reply to from Baidu. As I have said before, there are many reasons why Chinese don't reply to english emails….seriously need to learn CRM and sales funnels.
Sent: Tuesday, January 24, 2012 10:59 AM
To: is @ baidu.com
Subject: Pay Per Click advertising via Baidu – Non Chinese Speaking

Dear Baidu,

We have recently launched a website for one of our Chinese counter parts and are interested in Pay Per Click advertising via Baidu and wanted to know more about your Baidu SEM professional services. We are particularly interested in any services or assistance you provide to not Chinese speaking individuals who wish to manage PPC advertising though Baidu.

Please let us know what services you provide or could recommend in this situation.

Best Regards,

Adam
I have some contacts in Baidu, and reached out to them directly. They said there is no english user interface, currently have Chinese and Japanese only. But they welcomed me to take Adam with me to their Baidu Shenzhen office, as Chinese are always very welcoming to foreigners coming and visiting.
I have used Baidu in my own account in the past, and asked if I need to open a new account for Adam, or should use my own account. There is also the chance for me to create an English interface to Baidu's system and then allow small businesses in USA and other english speaking markets to advertise through my account. This is something my Baidu contacts tell me I should really look into as if I think there are more and more English speaking businesses wanting to sell in China and advertise on Baidu.
Again, too many opportunities. But Baidu is a monopoly in China and I may as well ride the China-selling wave.