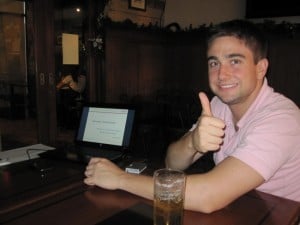 Seems like twitter meetups still confuse so many non-twitter users, and even twitter users! I experimented and put together in Hong Kong meetup with only 2 or 3 days notice. Anyway, I am just experimenting still with different ways to bring groups of people together as I am traveling so frequently, in a short period of time. Its also fun to put faces to twitter names. And I don't want to charge money to come in, as I don't want it to look like I'm profiting from this or doing some kind of sales tactic. I think its all about being open, being social, being friendly. Though I am sure there are some people reading this thinking I have some kind of secret plan to profit from it. But really, its a long term investment I'm making in order to learn how to move groups together via twitter (with a sprinkle of facebook)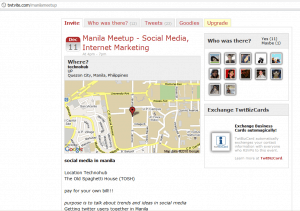 Since the Hong Kong meetup wasn't as well organized, I decided to put together a powerpoint for it. And listening to twitter friends, seemed the most popular topic is social media. And asking location, few people suggested and agreed technohub would be a fun place to go.
I was kinda not sure where to put it, as Manila still confuses me…..Makati, Quezon City, and the volume of traffic. Also a weekday night, weekend? Just feeling it out with people earlier last week made it seem like this was the better place to do it. Actually I had never been over to technohub (and I can walk there)
@jerjerboi – promoting competitive intelligence via internet
@justinbreathes – promoting local pinoy musicians
@mariebalaan
@eglobal
met up beforehand – @mikemo_
and me – @michelini
Kinda wish more people would come….got a few last minute cancellations and bunch of no-shows…little bit dissappointed, but I am told this is common in the Philippines. People who did show up told me that maybe they didn't believe me, that it was really going to happen. Or to meet people off the internet they don't know. Its kinda funny, because so many Filipinos chat to me on twitter….seem excited to meet up and network. I had a lot of plans too. But anyway, yea I can understand traffic sucks….and it makes people just want to stay home.
Made a hour or so presentation, may be presenting it or a variation of, at Western Union corporate. You can download the powerpoint I made here – Winning in Social Media 2010 manila meetup which seemed to be enjoyed by those who came. Don't take it personal, I will keep my chin up and keep on moving forward.