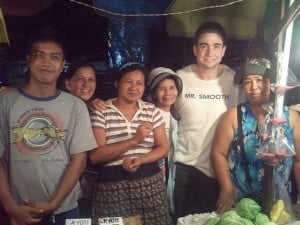 Been taking breaks from sitting at my desk and walking down to Philcoa area of Manila, for those of you following my facebook or twitter can see the daily images of my shopping on the streets, lives are there….I have said at times I feel like I'm in the beating heart of Manila. Families are raised here, incomes are made here, I have recently given my perspective on daily life and struggle in Manila ….I almost can't help but feel guilty being born into the world I was born into, while others are born on the streets.
I almost feel guilty even blogging about it, to have such a privileged upbringing in America, well fed, educated. Yet what I am supposed to do, that is where I was born, and I am doing my best with the cards I was dealt with in life. In one way, I kinda want to have the struggle, to make me harder in life…not so gullible and soft…..maybe that's why I kinda "vent" about Americans taking things for granted (as Piotr comments on my blog every so often)….I guess I just appreciate things so much better….and wish other Americans would too, and live their life in a more….giving and appreciated way (if that makes any sense).
Should I therefore ignore it? Stay in 5 star hotels in the expat areas? Take taxis around, ignore the beggars on the streets and the street vendors hustling to make ends meet? What if that was me, what if that is me one day. I choose to embrace rather then avoid.
But really, the people are so happy…kids, moms, dads, aunts, uncles. THEY TREAT ME LIKE A MOVIE STAR., makes me feel awkward in a way, but if it makes them happy, hey, I kinda like it too. Witnessing them all making a living on the street. I'm meeting people, adding friends on facebook, meeting people come off the jeepneys from their office job, they are shopping for some small christmas gifts.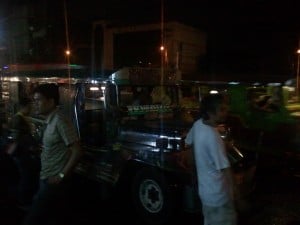 There are jobs called "barkers" which are people who get customers to board certain jeepneys and get a commission for each person they get on the jeep. This is an illegal job forbidden by the government, but locals still organize it at nights (as daytime the police are too strict). Marie's auntie tells me that the jobs can pay for the milk to feed the barker's children…and if they don't have this job their baby may starve.
One of the barker girls (no, not Bob Barker's models from the Price is Right TV show) tells me she just had a baby in early September, and is now back on the streets screaming on the top of her lungs pulling in customers onto her jeeps instead of others there. How strong, how tough…..told they drop out of school in the 1st grade and grow up on the streets….so therefore their english is limited. Added a few on facebook….amazing to me FACEBOOK is worldwide….and since its free they all have it, logging in every few days for a few pesos at an internet cafe.
So the idea of changing the transportation system isn't so black and white. What would happen to these jobs – barkers, jeepney drivers, tricycles? If an organized transportation bus line came in, it would definitely get rid of a lot of these jobs….
Just wondering what is right and what is wrong….in life…in city planning. Over population. Limited resources. Countries with the haves, and have-notes.
Especially during the holiday season….makes you think.