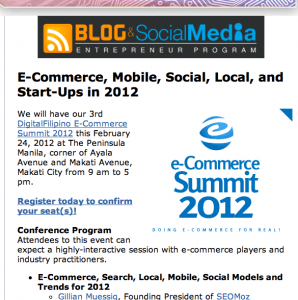 Being as open I can be about my life, business, etc….I'm writing this post about my Philippines trip per my buddy Leon's request to make plans around it. There are so many upcoming events! Next week is social media week Hong Kong and I'm going on Monday, Tuesday, maybe even Wednesday. Have Hero Meets Hero China ecommerce meetings, a China SEO conference in Xiamen March 30-31.. I use twitter, foursquare, etc but need to find a way to talk about FUTURE events. I have a google calendar publicly showing on https://mikesblog.com/calendar but I'm having trouble separating my personal evens from public events I want everyone to see. If anyone has solutions, let me know!
So the main reason I am booking my trip to Manila, Philippines in Feb is for the Digital Filipino Clubs E-commerce summit that I heard about from my mentor @SEOmom, Gillian Muessig from seomoz.org that I first met in a Xiamen, China SEO conference back in 2009. I'm really excited to see her on this side of the world, and can't wait to meet up with her.
The conference is on Friday, Feb 24th, below is the agenda – full post here – http://www.digitalfilipinoclub.com/digitalfilipino-e-commerce-summit-february-24-2012-at-the-peninsula-manila-hotel-makati-city.html
E-Commerce, Search, Local, Mobile, Social Models and Trends for 2012
Gillian Muessig, Founding President of SEOMoz

State of E-Commerce in the Philippines
Jack Madrid, Founding President of E-Commerce Merchants Trade Association of the Philippines and General Manager of Multiply Philippines

State of Digital Marketing in the Philippines (Making Customers Buy)
Donald Lim, Managing Director, MRM Worldwide

PANEL: Using Local Payment Platforms and Financing Methods in 2012
Erick Kaludan, CEO of ShopInstallment

PANEL: Where are the Customers? (how come we have low sales despite creating a useful website and social media presence?)
RJ David, Managing Director of Sulit.com.ph

Extending your Presence to the Mobile Device (Android, iPhone, BlackBerry, Windows Phone)
Chito Bustamante, CEO of Chikka.com

Presentation of Winners: DigitalFilipino – Search Profile Index Web Awards 2011
Each winner is expected to give a 5-minutes presentation to share their e-commerce journey.
Also, I have been chatting to the Digital Filipino club team, and I may be presenting on how to attract investors for your business. Not exactly my forte, but I am working on a presentation now for it.
I'm discussing with Leon and Malou about picking me up in the airport, and because I feel I email it over and over, here is is on the blog post, Wednesday the 22nd afternoon to Saturday the 25th afternoon.
So for those who think I'm completely insane, again I am posting my flight info on the blog:
Flight Status: CONFIRMED
Departure Flight Details
HongKong (HKG) Hong Kong International Airport Terminal 1; to Manila (MNL) NAIA Terminal 3
Departure: 22 February 2012, Wednesday, 1040 H
Arrival: 22 February 2012, Wednesday, 1240 H
Flight No.: Flight 5J – 111

Return Flight Details
Manila (MNL) to HongKong (HKG)
Departure: 25 February 2012, Saturday, 1640 H
Arrival: 25 February 2012, Saturday, 1840 H
Flight No.: Flight 5J – 118
So here goes my best outline of this 3 day scramble, Leon I have mentioned is down in Manila now, moving there from Hong Kong to do IT development, and we are discussing cooperating on a few web and ecommerce projects. He has been meeting my team there and hopefully can patch the "fragmented" team together since I've been away in China.
Wednesday, Feb 22nd
Wednesday afternoon, Feb 22 – arrive to Manila, meet Leon / Malou in the airport.
Wed evening – plan to meet some of the work at home oDesk entrepreneurs Leon has been networking with. Also some other twitter buddies I have been in touch with.
Thursday, Feb 23rd
morning – thinking to spend the day in Quezon City, probably technohub. Want to meet Joel my quickbooks expert, and see the other staff I work with remotely.
afternoon – more technohub, Philcoa meetings. Maybe sell some street food again!
evening – May meet Gillian, @SEOmom hopefully. Have to confirm with her. And others in some pre-event for the Digital Filipino conference.
Friday, Feb 24th
all day – digital filipino conference
night – hopefully dinner / drinks with Gillian. Then party with Leon and his new network since he has been down there a month or so now.
Saturday, Feb 25th
morning – jam in any last minute meetings, re-schedules
afternoon – probably head to the airport after lunch, have 4:30pm departure.
Hopefully those who also want to try to catch up with me can comment here, or social media….look forward to a trip to the Philippines, hasn't been since tropicalMBA meetup + Boracay vacation in June 2011