Just left angeles city….had dinner with bas and tess and headed to bus station….they helped me figure out which bus to take….no ticket booth, just a ton of buses lined up with signs of their destination city in the front window.
Cubao city is the closest one to my destination – quezon city – as per text messages between me and marie via tess's mobile (i dont have a local filipino number….still roaming on my china cell) and marie says:
"Take the bus to cubao station, then take a taxi to philippines heart center, the taxi shouldnt be more than 150 pesos. Call me when you arrive there."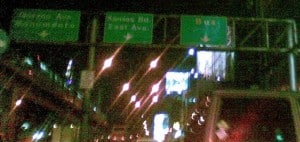 So yea, this is what i am working with. In the bus station, a guy helped us choose which for me to take….saying it was the besy price bus and had air conditioning (many do not, and its hot here!)….when i got on the bus, he wanted to check my bag….and then asked for the sseat fare…….i paid him the 120 peso ticket fee…but then realized he didnt give me a paper receit. I asked him fir receipt. And he said that no receipt…..i then said give me my money back and i will go on another bus, he asked then to keep the 20 peso bill and give me back the 100 peso nill, saying its his tip to help me find this bus. I got pissed and said then i will ho onto another bus…..sucks because tess and bas wete already driven off and i was soli…but finallu he gave my money back and eft the bus in a huss. The locals on the bus shook their heads about this man…..no one was working on the bus, only passengers…
But i am proud of how i got out of this situation…..i was consodering to jist let him keep the money…..but no….im not gonna let this guy profit from cheating foreigners…or whomever he cheats……
but yea…this kinda stuff is scary……and again makes me realize how hard it is for people here to get by in daily life……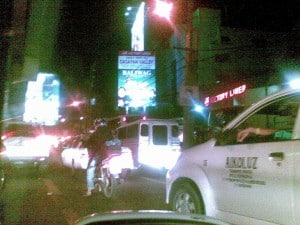 After arriving in Cuaba bus station, text messages Marie..no reply….I did get a taxi to the Philippines Heart Center…so many hustlers trying to use their private cars…and taxis without meters….I think I got a good deal, as I only paid 100 pesos and Marie said it should be around 150….
Still no reply from Marie….standing out in the hospital doorway…..I ran into a nice old couple….and they start chatting with me. She helps me call Marie and it works after a few different variations of number sequences. Marie said she didnt get any texts from me, only from Tess earlier in the day. Anyway, she quickly came to meet me. As I was waiting, the nice elderly couple start selling me to become a Jehovah Witness religion, and they have bible study nearby each week…..I just listened to them read me excerpts from their bible they had on hand….
I am now in the home office here……tired and going to bed…. But yes, it was a bit scary these past few hours.