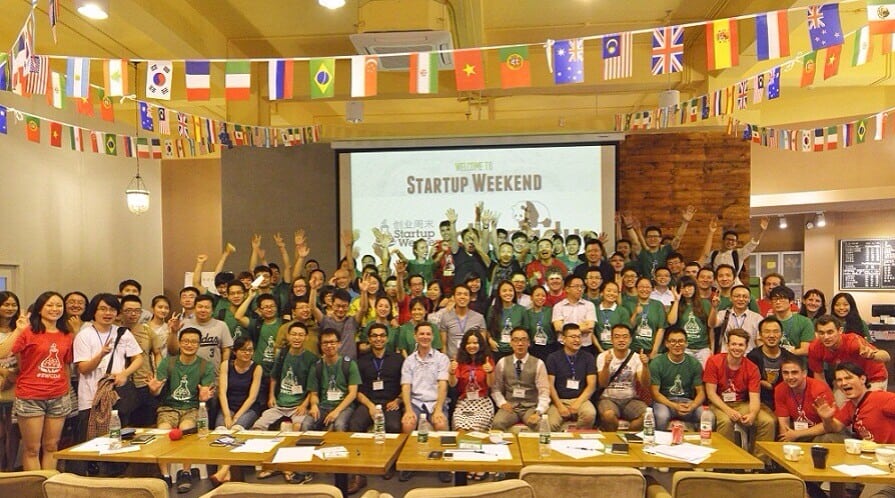 One of the best and longest lasting enjoyments I have gotten from getting involved in the startup community in Shenzhen has been seeing the development of Startup Weekend grow in the Chinese market. I feel it is somewhat my obligation as an American in China involved in startups and entrepreneurship to do my best to see this non profit organization succeed in its expansion in the Chinese market.
And since being involved in mid 2011, the past few months I have seen the biggest stride in developments here in China.
Right after my baby got out of the hospital, I went up to Chengdu, China to facilitate their first ever Startup Weekend Chengdu (photo is the main photo in today's blog post) and wow, this city was rocking!
It definitely got the attention of the city, and things are still active in the wechat group weeks after I post this blog. For some stats, per Chengdu Beer's post:
A few statistics about the event itself:
– 3 days and 54 hours of entrepreneurship, technology and fun
– 89 participants
– 40+ ideas pitched/presented
– 13 teams formed with presentations on Sunday
– 4 winning teams receiving prizes valued over RMB 50,000
– 16 mentors and judges
– 18 sponsors
– 12 organizers

A few statistics on marketing efforts:
– 14 News and Press articles and announcements including in Chengdu Daily, Reuters, MORE Chengdu Magazine, High Tech Zone Government and on the Chengdu City Government websites
– 1000 Chinese language flyers distributed
– 1000 English language flyers distributed
– 40 Posters distributed
– 120 T-Shirts
– 120 Event brochures distributed
– 2 page story and half page advertisement in MORE Magazines June [the most popular/ widespread English magazine in Chengdu – 6000 copies, article attached] – 2 page recap story in MORE Magazines July a [6000 copies – can send you around Thursday, maybe wait for it?] – 150 Member strong mailing list (and growing)
– 500+ Social media messages spanning Weibo, Weixin, Facebook, Twitter, and Linkedin
– 7 Community partners advertising on their websites and sharing on social media
– 2 Banners and 2 oral presentations recognizing sponsors at the event
Shanghai had theirs the week after, and their organizing team is building up and things going along smoothly and they are excited for future events too.
Beijing is having their first one after 2 years – Aug 8-10!
We have had participants, journalists, sponsors all contacting Startup Weekend asking why there isn't a Startup Weekend in Beijing. Well, I am excited to announce that the organizing team has been forming nicely and there is a venue and a date has been set for August 8th to the 10th.
Follow up on Beijing. Startupweekend .org to get involved and I am sure this will be a big hit.
Future of Startup Weekend in China
As now there have been events in:
Shenzhen
Guangzhou
Chengdu
Shanghai
Xiamen
Hangzhou
Beijing
And there are cities organizing for future events in:
Hainan
Changsha
Xi'An
Chongqing
Harbin
Fuzhou
There is some stuff brewing, I cannot share too much now, but think by Q3, or Q4 this year I can announce some formal and exciting things for the Startup Weekend China expansion.
It's About Inspiring Entrepreneurs
Really, what it comes down to, is inspiring others to take the leap and go for their dreams. And I think this is especially important in China. Culture and family reasons I think holds back a ton of creativity – here is an amazing testimonial from a participant in Chengdu on our wechat group: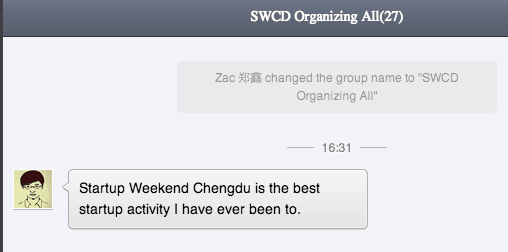 Keep on rocking!