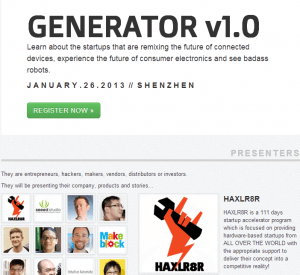 So excited to see so many startup and entrepreneur events in the PRD (pearl river delta). seriously the past couple years I have witnessed co-working spaces, startup cafes, startup weekends, hackerspaces. Its awesome. I am more into the web / software rather than the hardware, but always support all entrepreneurship activities!
My friends at Seeed Studio and Haxlr8r are pulling off an awesome speaker series this Saturday afternoon in Shenzhen, China and I am helping to help spread the word here:
What:
GENERATOR is a new kind of conference event. From the people who brought you HAXLR8R. There will be hardware. And industrial music. And augmented reality steampunk goggles. And maybe a jetpack or two. GENERATOR is for the children. GENERATOR is against demons.

Learn about the startups that are remixing the future of connected devices, experience the future of consumer electronics and see bada$$ robots.
They are entrepreneurs, hackers, makers, vendors, distributors or investors.

They will be presenting their company, products and stories…

Date:
Saturday Jan 26th, 2013
Time: 2pm to 6pm

Agenda:

Registration Begins 14:00 – 14:30 Reception Area
Few things happening! 14:30 – 17:00 Talks Area
Let's have some drinks 17:00 – 18:00 Reception Area

Location: (wow this is a long explanation, heh!)
The conference will be held in Shenzhen nearby SeeedStudio in the 'Cadre' Building on Tongsha road.

The google map below is a slightly (it's a few more meters toward the East – most shining building there) so here is the address you can show off to your driver:

The building name: 达尔集团中心 (Kǎi dá' ěr jítuán zhōngxīn)

中国 · 深圳硅谷 · 南山区同发路与同沙路交汇处

TongSha Road (at the cross of TongFa Road), Nanshan District, Shenzhen Silicon Valley, P.R.China.

Or head to the Liuxiandong subway station, it's 5 minutes walk away!

Cost:
Free

but you need to register, via http://www.generatorconf.com/
Getting lots of friends messaging me they are going as well, think this is gonna be jam packed!