I'm really excited to be making a trip back to America in September! I mentioned it in a quick blog post last month on my USA trip and have been working out details.
I want to do events all around the states, but seems my "home" is in Florida. It is where my parents are and I want to spend the majority of my time there
Plus I have an awesome friend and contact there now – Claudia! She helped with the event last year and did an amazing job! We have been discussing and picked a date and confirmed the venue!
If you happen to be in Florida and want to attend – I promise you it will be jam packed with unique and valuable content! I love sharing about China business.
Here is the details and you can purchase a ticket from Eventbrite at the bottom of the page.
China Business Workshop Coming to Florida
You're in luck! During a short visit to USA a dynamic duo will be hosting seminars on "Doing business in China" in Sunny Isles, Florida. Its an amazing chance to learn from people living and doing business on the ground in China, as well as network with others in your local area who are also doing business in China.
An American businessman, Michael Michelini, as well as his "Secret weapon", wife Wendy (Wang Xia) together to deliver the presentation. It is a great combination with an American in China for seven years with a Chinese businesswoman that has over 10 years of China business experience.
Sunny Isles, Saturday Sept 19, 2015
Topic: China Business Workshop
Subject: Getting Started Doing Business in China, starting in USA
Venue: Professional conference room (emailed to you upon receipt)
Where: Sunny Isles Beach, Florida
When: Saturday September 19, 2015 3pm to 8pm
Food and Drink: Yes, there will be appetizers, finger food and drinks.
Cost: see price chart at bottom of page.
Topics We Will Cover
What You Can Do From the USA to get started in China
Opening a Chinese Company as a Foreigner/Westerner (Non-Chinese)
Chinese E-Commerce Setup and Marketing
Chinese Social Media Setup and Marketing
Chinese HR and Tax Accounting
Location
Conference Room
Sunny Isles Beach, Florida
Exact address will be sent to confirmed attendees.
Seminar Format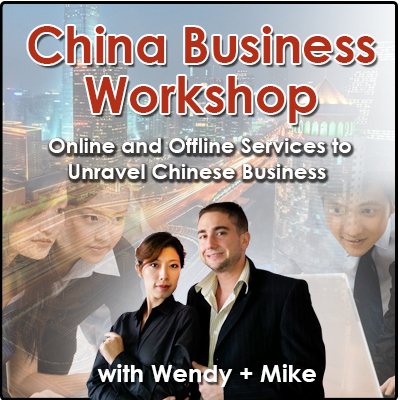 Here is a basic outline of the evening seminars:
First 20 minutes – Intro: We hope to have it a bit interactive, learn who is there and why they are attending.
1.5 hours – We will have a powerpoint jam packed with valuable information.
15 minutes – We will then go over real case studies.
15 minutes – And of course question and answers, that we hope will be valuable for the entire audience. If there are questions that may not add value to all attendees, we can help after the seminar.
Networking and Questions.
Attendee Fee
We're excited you're interested in attending! We have a beautiful venue and great content, with a good group of people. You'll learn a lot and we'll help you out a bit afterwards too.  These will be professional powerpoint, with real, on the ground experience. It's going to provide extreme value for attendees.
We need to get a minimum of 6 people to make it viable to host the seminar.
Early Bird (Before Saturday August 15, 2015) – 99 USD
Online Ticket (Pay online before the event) – 129 USD
Pay At The Door – 169 USD
Register Now!
We're excited to have this event and look forward to seeing you there!
We are using Event Brite for registering and purchases, check out the page now and RSVP!