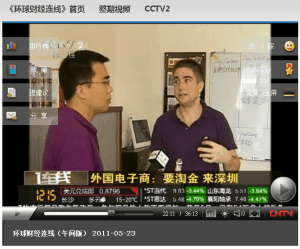 Life is the path you make it…and when people ask me how I get myself into certain situations….its such a long string of events….networking, knowing people, as well as being in the right place at the right time.
James Sung, my friend in Shenzhen for a few years, has a consumer electronics factory (the bluetooth factory I visited earlier this week) and he invited me to a TV series his CCTV reporter contact is doing, foreigners in China and their consumer electronics inventions. He asked me to present about the electrapour and the ecommerce services I am providing.
The video was recorded last Thursday in Shenzhen, and then aired today (Monday) at lunchtime. Actually a few friends in China sent me a QQ without my even telling them that they had seen me on TV! CCTV2 is a fairly well viewed television show.
Watch the CCTV full cctv.cntv.cn/lm/huanqiucaijinglianxian/index.shtml (offline) Video
(video site2 here , I am in the 21:30 minute for about 45 seconds. Youtube (for those outside China) below:
The reporter really liked the LED pourer, Electrapour, maybe he will become a reseller too! Haha, but I guess it is a simple, direct eye catching product….seems I got more facetime on the TV show because of it.
It was double translated, the reporter couldn't speak English and I couldn't speak Chinese, so we had to have a middleman translate his questions, and then translate my answers.
James Sung spoke about his Peel product, that converts an Apple Itouch into an Iphone. Askan was there too, talking about his mini projector product. Then they had us walk down the outside of the office to look especially professional to end the clip.
Some thought DON'T SHOW IT ON CHINESE TV! YOU WILL GET THE IDEA COPIED. Come on, if someone wants to copy it, it will get copied! That is one of the worst things an entrepreneur can do, is to keep quiet and not tell people their idea for fear of it being copied.
My friend in Hong Kong, Rayfil Wong, had been on an American Inventor reality TV show and said that 70 – 80% of a product's success is based on the marketing efforts. Its also amazing I have been sitting next to him in boot hk coworking space for months and hadn't had that conversation….Just amazes me again and again, even with the internet and social media, we still do not optimize the network surrounding ourselves each day.
So how does this happen? Maybe consistently trying, letting people know what you are upto. Not giving up. Not getting discouraged when people may tell you to give up.
It also comes from networking. I believe these Shenzhen ecommerce meetups have been helping, its all a long term investment….meeting people, learning, networking…..getting known. Its a test of will and determination.