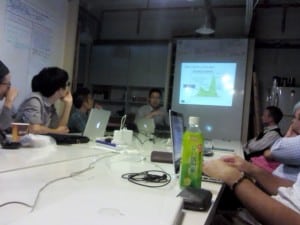 Made it to Hong Kong for a couple days for meetings with the fiveislands ecommerce center and catching up with the boot hk crew, also discussing cooperation with Boot Hk and the new SZteam Shenzhen coworking space.
Tonight, being Monday, Startups HK held their weekly startup Monday event at boot. We went around the room and did self introductions….there were too many, but I did type them out on my laptop as best I could remember, just to give you guys reading a feel for who came:
Tony Chan from apdealflow.com (connecting VC to entrepreneurs), a startup for socialites in Hong Kong, an online marketplace for Cambodia farmers to sell their food, Styles Near By, Japanese app developer, Jon's Makible business partner, also making a substitute for shark's fin soup (to save the sharks), Vivien who is promoting local HK and Chinese designed products to foreigners, AJ who is working on a secret new startup after just selling one, Kenny who is working on an iPhone app, Larry Salibra who is doing iPhone app development, Ruth who is helping parents find schools for Hong Kong kids, a woman teaching journalism to students, Lauri who is working with her husband on "Charlie's play" an interactive way to teach English language to HK students using theatre, Tony from buzzblaze.com startup, Cliff from HK university studying PR and Marketing, Collin an intern for Makible also working on a pure patents directory system, and the guys from Blue Currant a PR and Media agency.
The speakers spoke about how Traditional Media is still relevant in today's online world. I kept notes as they were talking, as many of my friends who can't make these events ask me to give a summary.
blue currant PR and marketing, presentation by Max and James, they deal with many Chineese clients, and advise how CEO manage reputation on weibo (Chinese twitter). Their firm focuses on 3 things: search, social, and PR consulting / agency.
Today's topic why traditional media is STILL IMPORTANT.
Who are today's opinion leaders? bloggers, microbloggers
traditional media is still relevant, because its adapting. Experts coming to social media from traditional media.
Three phases of media – pre media phase, mass media age, and now the social media age!
---
case study: ubuyibuy getting chosen to be bought out by groupon, to become Groupon Hong Kong. They went on bloomberg tv to get more well known. To BUILD CREDIBILITY with merchants and consumers! BUILD TRUST!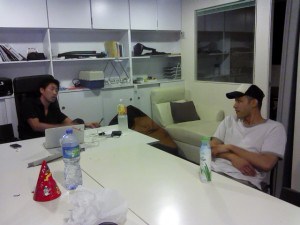 When in media, don't talk just about your company, yourself, but your industry, your overall market potential and reasons why people should engage in it.
Trends. get people excited.
The RESULTS from this case?
UbuyIbuy was chosen out of 12 competitors in HK to be bought out by groupon. The legitimacy, the brand, was worth it to Groupon to buy, instead of start from scratch.
---
target media differently, pitch differently, the story differently.
All media channels are different, all bloggers are different,……
some pitched at lunch
some pitched on facebook wall
some just a phone call
Also, mergers and acquisitions are still "friendly" phone calls, this is why traditional media is important still. Companies know they are shopping around and suggest ideas casually.
for mass / traditional media – you have to be first to market in order to get the best effect. BUT also, if it becomes a negative media effect, then your competitors will distance themselves from the media coverage. Its all about CREDITBILITY, being seen as the market leader in an industry.
what if you are a boot strapper entrepreneur?
rely on your network, your community to help support you. Barter. Make a story.
also cooperate with larger brands.
Viral Marketing or Guerilla Marketing
More than 50% of viral marketing is setup by marketing firms that failed.
work with influencers. go with the flow that is already there.
give back to the community, look at how Jon has marketed himself in Hong Kong with Boot HK.
After in the question and answer, I was questioning how about today's personal and business…..on the internet….and how brand image and personal image are one in the same. Wasn't too much of a clear answer there, but yes the CEO / Founder will always be connected to the brand. Yet like Microsoft Bill Gates was able to transition over to Steve Ballmer over time.
Afterwards the group went to Paisano's Pizza grand opening in the Wan Chai location….heading to Shenzhen tomorrow afternoon. Just another day in the life…but trying to stick in Shenzhen more these days.