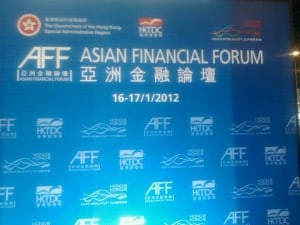 Been trying to calm down my traveling, sticking to Shenzhen, China – but lately have had a few draws to get to Hong Kong. Today I planned a day trip, mostly for the below China Daily meeting and forum I was invited to on uniting Asian countries to China, in a partnership.
China and Asia: Global Business Partnership

5F-G (Room A), Hong Kong Convention and Exhibition Centre, 1 Expo Drive, Wanchai, Hong Kong
2.30pm – 4.00pm, Tuesday, January 17, 2012

Dear Michael,

Happy New Year!

On behalf of China Daily Asia Leadership Roundtable, we would like to invite you to be a delegate to the China Daily Workshop during the Asian Financial Forum (www.asianfinancialforum.com) on "China and Asia: Global Business Partnership".

On the 2011 Fortune global 500 list, only 30 percent companies are from Asia. But with a growing number of companies from China and other Asian countries globalizing their investments and operations, the order is bound to change. As Asia is emerging as the epicenter of big-ticket business, enormous opportunities for such strategic partnerships are up for grabs in almost every sector such as financial, investment, infrastructure, agriculture, manufacturing, high technology, tourism, health care, education, environment, energy, natural resources, etc. However, there are challenges, too, that come in the forms of trade barriers and currency issues.

At this CEO panel, we will reflect on the challenges and opportunities and discuss how Chinese and other large Asian companies can work together as strategic partners to strengthen their market positions not only in Asia, but also in major markets such as the US Europe, Africa and Latin America. This workshop will be covered by major Hong Kong, Chinese and international media including CCTV, Xinhua News, CNBC, Bloomberg, etc.

Below please find our tentative agenda:

Agenda:

2.00 pm Registration
2.30 pm Mr. Alexander Wan, Senior Advisor, China Daily Asia Pacific (Moderator) to introduce the workshop
2.35 pm Welcome speech by Mr. Zhou Li, Publisher and Editor-in-chief, China Daily Asia Pacific
2.40 pm Panel Discussion

Dr. Suthad Setboonsarng Former Thailand Trade Representative, The Office of Thailand Trade Representative, Thailand

Mr. Sujit Chatterjee Country Manager and Head, Hong Kong & Taiwan Tata Consultancy Services Limited, India

Prof. Edward K Y Chen Distinguished Fellow, Centre of Asian Studies, University of Hong Kong, Hong Kong

Mr. Sompan Charumilinda Executive Vice Chairman, True Visions PCL, CP Group, Thailand

Mr. Yushu Feng Senior Economist (Regional Cooperation), Asian Development Bank, Thailand

Mr. John Pang CEO, CIMB ASEAN Research Institute, Malaysia

Mr. David Wong Deputy Chief Executive, Bank of China HK, Hong Kong

Mr. Xiao Geng Senior Fellow and Director of Research, Fung Global Institute, Hong Kong

3.15 pm Open Q & A

4.00 pm End of Workshop

We look forward to welcoming you on January 17, 2012.
Typing this blog while in the forum, the main discussions and key points I have gotten are (again, this is not my opinion, this is my typing as I hear them speak as I don't agree fully with all of it….):
As Western hemisphere (USA, EU) continues its decline, Asian countries must unify and help each other to stabilize and
More + More Asian country HQ companies on Fortune 500 list – Currently 61 Chinese companies (if you include Taiwan, then 69) – which is just 1 over Japan which has 68. All Asian countries together, representing 168 companies, which is exactly 1 third of the Fortune 500 list. Going forward we predict this listing will change more and more for Asian countries. This is because only Asian countries work hand-in-hand with Chinese companies.
Asian cooperations are good, but going international / global is going to require significant investments in logistics and infrastructure.
Asian countries should band together and buy CHEAP Western assets! – US dollar is low, American companies are currently weak. Asian countries should band together and invest in these cheap assets.
How did first generation Chinese companies go abroad (TNC), i.e. Huawei, TCL, Haier – R&D is cheap currently, they baed in Shenzhen and other cities with low labor costs, good educational backgrounds, talent pools, and they can sell for a fraction of the price of Western brands. Take advantage of their current strengths in capital, and currency position.
Need a non-government sponsored Think Tank – to drive innovation, not just for export based business, but domestic Asian business.
Japan and USA businesses have benefited from a low interest rates, and Asian countries must find ways to offer this.
There may be more and more trade barriers in Western countries, where currently within Asian countries there is more free trade agreements, due to effective logistics.
I just wonder why there weren't any mainland based companies represented here? I came from Shenzhen today, without too much trouble. I would think that if they want to have a panel about how to partner Chinese companies with other Asian countries, shouldn't they have representation from Mainland China?
I also got a free book by China Daily Asia Pacific called "Reflections" which is profiling different Asian business leaders, their stories. I am looking forward to reading this.