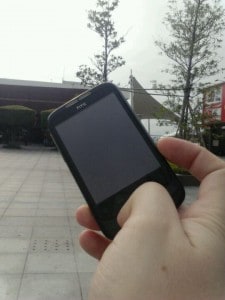 Traveling around like a madman, sometimes its hard to keep track of all your things in transit! I went to Hong Kong on Thursday for a daytrip (my buddy Chris told me about a special rate of 150rmb for a round trip day pass on the shekou ferry to central pier), and had booked tons of meetings, HSBC checkup, stopover at my favorite spot boot hk coworking.
So jumping back and forth between Shenzhen and Hong Kong so often, I have been saving time switching wallets and mobile phones by carrying a HK wallet and HK SIM card phone, as well as a Shenzhen wallet and a HK wallet, as well as a travel book for my passport, Chinese work permit….makes things much faster just switch phones and wallets when I cross the border.
But somehow when I was in transit, I misplaced my smaller HTC mobile phone that I use for my HK SIM card…jeez, just when I arrived in HK I lost it. I checked all over my seat on the ferry, couldn't find it. I texted my buddy dave ho to check my room in Shenzhen…maybe somehow I left it when I was rushing in the morning to catch the 10:15am departing ferry. Dave texted back that he could drop by in the early afternoon to look…..
So I called my phone a couple times, no answer….but then again, the phone wasn't off! When I had my mobile phone stolen in a Shenzhen nightclub, it was turned off immediately! So if it was still on, by mid-day then it was either lost somewhere and no one had found it, it was left in my apartment, or someone had it and didn't know they need to turn it off in order to reset it? I just couldn't imagine someone to have found it and try to return to me.
I was getting calls on this HK phone all day, as I was telling my Hong Kong meetings to call my HK sim #….and then they kept asking why I wasn't picking up my phone….and I had to explain I misplaced my HK phone, and was only using my big China 3G Huawei tablet (thats always a great conversation starter!)
Then during a meeting, my China phone starts to ring, saying "My Hong Kong phone…. incoming call"….huh?!?! So I picked up, on speaker phone in the Hong Kong cafe, and the woman spoke great english! She said that the ferry company had found this mobile phone and asked if it was my phone!!! In my contact list, I had created a contact "My China phone", never thinking that it would be used to call me back! And I didn't lock my phone, else she wouldn't have been able to call me back!
I was in shock….an unlocked mobile phone misplaced in China. She could have easily just kept quiet, and had it reformatted to use it or sell it. some have said well its not a new phone it is a small HTC firefly that is over a year old….
She was in the Shenzhen ferry office, and said they are opened 9 to 5pm each day….and that it would be closed by the time I returned to Shenzhen Thursday.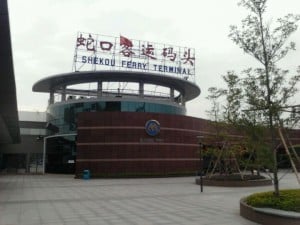 Friday morning, I went directly to the ferry terminal at 9am, was helped pretty easily, and located my phone in the marketing department office.
I tried to get a photo with the nice woman who got my phone, but she wouldn't allow it! I tried to explain I'd blog about it.
Bike stolen before, laptop stolen in a Chinese restaurant, and earlier in this blog I mentioned my Galaxy S mobile being pickpocketed in a nightclub….
I have just budgeted these things to happen to me as an international businessman, traveling like a madman….I do try my best to take care of my things
But I'm getting a better feeling being in China lately. Maybe its also being positive, thinking positive creates others to be positive around you.
Or just luck.