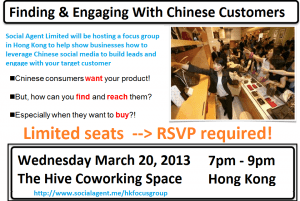 Many people think "lean startup" they think cheap, bootstrapping "ramen noodle startup" – well, that may be true too – but actually, lean is all about listening to your users, and building a product that they want! To validate your business model as soon as possible to reduce the time and resources wasted programming (building) a product that people don't want to use. Again and again and again Social Agent has been tweaking its model, listening to users. Today (well technically yesterday as its almost 2am China time now) I talked to over 10 customers – ON THE PHONE! Some of my team members think I'm crazy and insane (well, ….) but this is what it takes. your customer / user is the person who will ultimately decide if you succeed or fail.
So again, trying to practice what I preach, Social Agent is gonna "throw together" a focus group in Hong Kong in about 1 week. Yes, people say that I need more time, or this or that. But if you don't just do it, then it will never happen.
Some have asked me, why do a focus group? That sounds like such a silly question, but let me list a few key reasons:
Watch your user use your product! This is key. Talking to them on the phone, emailing questions, chatting on skype, sharing screens – nothing still beats sitting next to your user and watching them click the buttons and ask questions.
Allow your whole team to see users using it – Again, I'm the customer facing guy. I talk to users every day. But the rest of the startup team depends on what I relay to them. Having the technical team, and the operations team seeing users use it… priceless
The focus group users share ideas between themselves – Having 1 on 1 sessions with users is good, but when its in a focus group setting, brainstorming happens, ideas flow, and one idea piled ontop of another idea is an amazing thing to witness.
Educate your user – "an educated customer is your best customer" – enough said. Build value in your community.
Build buzz and awareness around your startup / product – This blog post, social media, word of mouth. And after the focus group, people share experiences. This how its done.
These focus group attendees are potential paying customers – duh! No pressure to sign up, but hey, maybe they'll actually like the product enough and pay you!
Practicing lean startup methodologies is hard….it takes discipline. Today I read Kevin Dewalt's blog post: Don't Let the Lean Startup Process Ruin the Fun of Entrepreneurship, and sometimes you get so tired talking to customers and users…getting slammed with various feedback and feature requests that you just want to go hide out and build a product that you think is cool. NO. Force yourself to keep getting out there and talking to users! Reduce the risk of building something that no one wants to use.!
Interested to go? We only allow 8 – 10 people to come (that's what the "focus group" booklets say) as more than that and its hard to manage. We already have 3 seats reserved… here is the details (originally I wrote this on the Social Agent blog:
We're ready to listen, Hong Kong! The Social Agent startup has been working extremely hard the past 8 months building what we think you'll love. Now is the time for you to prove it!. We have a conference room to fit 8 – 10 qualified business owners who are currently selling or trying to sell to the Chinese market. We invite you to this focus group to learn how to better target and sell in China!

Does the below sound about right?

Chinese consumers want your product!
But, how can you find and reach them?
Especially when they want to buy?!

Social Agent will go through some strategies on selling in China, and Chinese social media – and then we will have each attendee try out the Social Agent online software.

We're a Hong Kong startup, and we believe this is a great opportunity for us to meet you face to face, and help you, while you help us understand what you're looking for?

Sound like a deal? Here's the information below:

FOCUS GROUP LOCATION & DETAILS

Hosted By: Social Agent Startup Team
For Who: Businesses selling or trying to sell to the China market.
When: Wednesday, March 20th, 2013
Time: 7pm to 9pm
Where: The Hive coworking, 19th floor, 23 luard road, Wan Chai, Hong Kong +852 3568 6343
Cost: FREE, but please RSVP, Register via EventBrite Here!
Contact: The Social Agent Team
or call Mike Michelini at +852 95135335
or email info@socialagent.me

 

Venue provided by SoftLayer Catalyst: http://www.softlayer.com/partners/catalyst