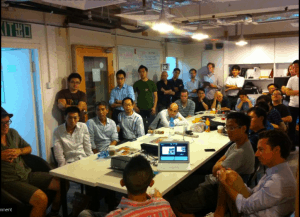 Startups Hong Kong has been growing to be sooo packed, this photo was from William Liang tonight. There are more organized speakers coming, tonight Derek Kwik attended, a venture capitalist in technology and mobile payments. A very ambitious, sports bugg, having running across 4 deserts.
He compares running across a desert like like running a business, very difficult, takes perseverance
He mentioned the theme adventure racing and showed a video of yearly events all over the globe where over 50% of those attending drop out.
After the video of adventure racing, he took out his powerpoint having titled his presentation: "the new normal" by Derek Kwik
What is the "New normal"? Life changes so quickly. things will not back to the way they were.
He corrected that its actually been 7 deserts and not 4, 2 jungles, 1 mountain. he has 2 remaining adventure races left.
I liked this quote:
difference between astronomers and astrologers – will you gaze up at the stars, or will you go and explore?
He even wrote a book, Kwik Fix, and donated proceeds to charity. (this is a personal dream of mine!)
loves sports, hiking, marathons, scuba, rock climbing, snow mountains,
circle of comfort – find your comfort zone, but dont stay there! Predictable, routine. As humans we dont like the unknown….but if we stay there we will never get better at anything.
sleep in your comfort zone, but live outside….life begins outside of your comfort zone.
Do the Hong Kong Oxfam Hong Kong Trailwalker. 4 team members, 10 checkpoints, 100 kilometers as fast as you can. His team quit, and when he went back to his office and told people he didn't finish, and repeating it over and over, he felt regret.
When we quit, we have to think of the consequences of our actions. If we quit, we have to live with that.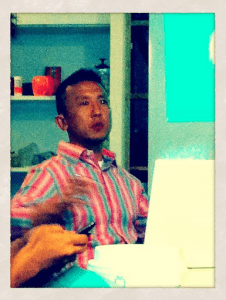 how do you train to run across the desert? 250 km, break into checkpoints. Run on treadmill on weekdays with his backpack on. On weekends. run hungry, run sleepy. run sick.
in military, fight like you train, and train like you fight.
don't fail in training, if you fail in training, you fail in the real world.
Fear
Why do we fear the unknown……because we lack repition, lack a routine. we cannot panic. recognize fear, accept it, limit it.
Here is the original event posting from facebook
#SUMHK: How to motivate yourself to do the impossible by Derek Kwik

Time
Monday, May 23 · 7:30pm – 9:30pm

Location
Boot.HK

Created By
StartupsHK, Gene Soo

Derek is the first Chinese person in the world to run across the 4 major deserts of the world.

2010 250km Kimberley Plateau (Australia)
2009 260km Namibia (Africa)
2007 200km Jungle Marathon (Brazil)
2006 250km The Last Desert (Antarctica)
2005 250km Sahara Race (Egypt)
2004 250km Atacama Crossing (Chile)
2003 250km Gobi March (Mongolia)
2002 225km Marathon Des Sables (Morocco)
2001 500km Eco-Challenge New Zealand
2000 500km Eco-Challenge Sabah (Malaysia)

Derek Kwik's background combines 18 years of technology venture capital investing, operational experience in technology manufacturing, business strategy and finance. Previously, Derek was Vice President of AsiaTech Ventures, a US$230M early stage direct investment fund with LPs: NTT Docomo, Fujitsu, Mitsui, Sun Microsystems, Singapore GIC and the Hong Kong Government. Derek sourced and led transactions across Asia in various sectors including internet, software, telecommunications and wireless applications. Derek managed Asiacontent (NASDAQ: IASIA), Renren Media Holdings (HK0059), QuotePower (HK0030), ActionAce, AsiaCommerce, Portelco, I-Quest, Inlooktech and E-Point. Derek has held senior posts as Director and Head of the Business Intelligence & Analysis Group for a global management consulting firm, managed the China manufacturing operations for an electronics watch manufacturer and held business analyst positions with the Economic Venture Analysis Group at BP Global and the Pacific Rim Consulting Group. Derek began his career in investment banking in the United States. Derek has a Bachelor of Science in Business Administration from the University of Southern California. Derek is an advisor, non-executive director and board member to several companies in the Asia-Pacific region.

In both his professional and extracurricular accomplishments, Derek has been routinely featured in several international and local publications. Derek is a regular motivational speaker to children's schools, corporations, governments and professional organizations. Derek is one of the largest individual charity fundraisers for the Society For The Prevention Of Cruelty To Animals (SPCA). Derek holds a world record in ultra-marathons for being the first Chinese to successfully run across the Sahara Desert, the Gobi Desert, the Atacama Desert and the South Pole. Derek is the author of a motivational book titled "Kwik Fix".
It was another great meetup, boot is actually overflowing…I think there needs to be RSVP soon…or a bigger venue.