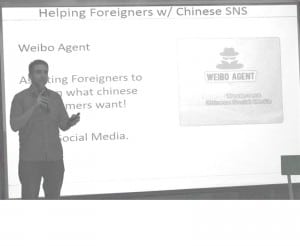 Can't wait to get back to Beijing, last time I was there I was following up potential investors from a overwhelming Chinaccelerator demo day. Can't wait to show them all the updates and progress. I told many that I would return to Shenzhen, renew my work permit, work with my product development team, work with some core customers, and return to Beijing to follow them up.
Man, so much has grown and developed since then, I am really proud of the Social Agent startup, and where we have gone. Also have gotten more familiar with the investment community in the South of China, and better grasping startup fundraising processes, as this is my first venture to try to raise professional investment.
Last week was an exhausting bouncing back and forth between Shenzhen and Hong Kong (guess I just need to accept that is the life I chose to live) with a Saturday in Zhuhai.
The photo in today's blog post is from last Saturday in Zhuhai, I was a speaker at a local TEDx event, and my motivational pitch was to not give up, even when everyone says you are crazy. I parallel that to a westerner doing a internet startup in China.
So what is the plan in Beijing, as always, I try my best to outline here
Time I'm in Beijing: Tuesday Dec 18 – Thursday Dec 27
Trip Agenda: customers, fundraising, Sina meetings
Today, Tuesday Dec 18, 2012 – typing this blog on the subway. Late afternoon flight to Beijing, arrive late
Wednesday Dec 19, meeting potential investors and customers, mostly in the afternoon
Thursday Dec 20, BIG customer followup meeting, meeting startup friends, and dinner with Sina friends.
Friday Dec 21, meeting more startup tech friends, customer followups. Afternoon open so far.
Weekend Dec 22 – 23: open so far.
Monday Dec 24 – open.
Tuesday Dec 25 – Leo Liu, team member with me in Social Agent Limited, arrives to Beijing airport.
Planning a Sina office visit today (or Thursday).
oh ya, its Christmas…China offices are still open, so I'll be working.
Wednesday Dec 26 – Innosai.org Startup demo competition. Cash prizes and exposure to more of the investment community in Beijing.
Thursday Dec 27 – last day in Beijing. Potential investor followups, and potential backup date to visit Sina office with my Chinese team member Leo Liu to better communicate in the future (his first time to meet them)
Fly back from Beijing, late night flight together w/ Leo. Reflect on the trip in Beijing, and make a huge plan to go into 2013!
Friday, Dec 28– fullday back in Shenzhen, China.
Again, putting myself out there on this blog, helps motivate me, and pressure myself to keep executing.
Really excited for this trip.
You only live once, and I'm not getting any younger.