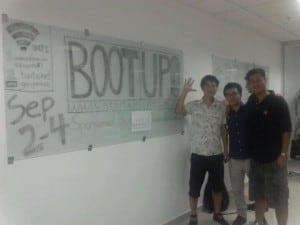 Blogged last night on startupscn .com about the first night progress of BootUP! weekend Shenzhen edition – and I will keep the majority of posts and updates I blog about on that domain – so check there (startupscn .com for more frequent updates on the Shenzhen Startups group.
Very exciting first Friday night here at the first StartupsCN Bootup! weekend in Shenzhen, sponsored by the SZteam coworking office.

People arrived at 7pm, but of course people came late, some coming all the way from Hong Kong to Shenzhen for the first time. Bruce Levin and Mike Michelini coordinated the event, with Patrick Wong keeping track of people as they came in and drawing an awesome BootUP! logo on the whiteboard.

We started shooting out ideas, about 17 ideas were made. We had 16 people and formed 5 startups, the startups being:

Platform for selling QUALITY businesses

Vlad
Lucian
Fred

Fast Food Veggie

Mar
Stella
Sammi
Donald
Max
Alice

Social Tour Guide Platform

Attila
Katherine
Sean

Social Media Network For Luxury in China

Kris
Rodrigo
Hopkins

Reverse Auction B2B Sales Platform

Rafael
Mitch
Cedric
Conan

Teams formed and then made their weekend plan, brainstormed company names, and will checkin to SZteam tomorrow 10am to report to the group. Saturday is market research and technical outlining, Sunday is pitch preparation.

Lets Rock!
Just so excited to be involved in this community….to build up a community of creative entrepreneurs, both Chinese and foreigners and push themselves to make it happen in a weekend!
And over and over, as visitors and even members here come, they ask me why am I doing this for free? Especially Chinese, its unheard of to do something for free…..and Chinese see something for free they must think its a sales tactic or a cheater company. But really, its all about building the network and community…I am sure good things will come of this
but yes…I am thinking about the need to make more short term money….but that's what my ecommerce business is for, and this startup fever gets my blood flowing.
Short blog today, back to mentoring and coaching the 5 startup teams!