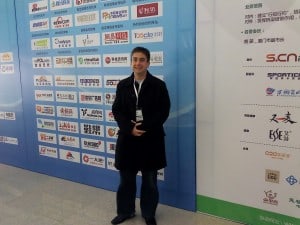 At this years's biggest Chinese SEO fair I just spoke about optimizing English social media channels (SNS) which I worried about, as we all know, Chinese government has been blocking these websites, so about 80% of my topic cannot be accessed by my audience, (legally)!
So when I was asked to speak on this subject…..I had to take a second look and question the girl, Fion who was emailing me, her reply below:
Hi Mike,

Ok, your newer photo and title received.

For the topic, we think it would be still interesting to talk about SNS promotion and even facebook, because many Chinese companies are also using it. Actually, my previous job was in a online gaming company whose games were all operated in North American and Europe. They did a lot on facebook and were very interested in it. 🙂 So, it would be nice if you can talk about SNS promotion. Let us know what you think.
so…….it is true and something I have been saying forever….by blocking these social tools inside of China, it is holding back business, sales, marketing, and networking with the outside world. How can an export company, which needs to gain foreign customers in order to grow, and survive, continue to be competitive in the global ecinomy if the government forbids them to utilize social platforms where their target customers "reside". As social media continues to be integrated into SEO it will be harder and harder for businesses inside countries that control and regulate information to be as effective, which is sad because I love the Chinese business spirit…and having them setback from international business because government policies is such a waste of mind and opportunity.
In my presentation obviously I do not go into this, but I spoke about
benefits of social media promotion for your business,
listening to customer
social media monitoring
engaging with an audience
Acting, having a plan to react to customer feedback – An example of customer service in action is Dell. This end consumer, Savannah Spangler, is complaining about her PC not working well, even saying the CEO of Dell, Michael Dell, "sucks". Notice that they dell cares department addresses it, by asking if they can help….and then she RETWEETS it on her stream to show that they are listening and replying.
how to grow a following
measuring social media, klout

– on this blog I have mentioned klout optimization and how it is measuring social media people, both on a score and in a certain industry. It is quite amazing, and we need to be on top of it as it develops.

case study on Dell's social media command center – Late last year, Dell opened a social media command center, taking proactive measures in the quickly exploding social media world, listening to its customers, and not sitting back and waiting for others, but being a leader in social media.
employees having their own social media account – Again using Dell as an example, we see staff having their own "work" twitter account (maybe these staff have a personal twitter account for off hours? cannot confirm), but notice how they use twitter to talk to other team members, customers, and just showing the "behind the scenes" action of the Dell business.
I am pretty passionate about social media, see the exponential power of connecting people in similar industries and feelings….and how like wildfire we can grow our network and expand our horizons. How social media is PEOPLE, and SEO is/was websites connecting to each other….
It was my 3rd time to present at the timev event, and I am happy to meet so many motivated and exciting Chinese internet enthusiasts.
If you want, you can download the presentation – Winning in Social Media 2011 xiamen timev